I am currently spending a few days with my family in the Vosges, a mountain range in the East of France where my parents have a vacation house. One of the great pleasures of being there, besides enjoying the garden, taking walks up and down the mountain, and sleeping soundly in the perfect quiet, is baking with my mother. This is something I used to do often when I still lived with my parents, but now that I'm a big girl with my own place and all, these occasions aren't so frequent and are to be cherished.
The bottom of the cake is nicely dense, its sweetness lovely against the tart apricots, and the top of the cake is deliciously moist from the fruit and the creamy topping.
The cake you see here I didn't actually bake, as my mother made it before my sister and I got off the train from Paris yesterday. But I did eat it for the goûter in the afternoon, and it was absolutely delightful, which hardly comes as a surprise when my mom bakes. The bottom of the cake is nicely dense, its sweetness lovely against the tart apricots, and the top of the cake is deliciously moist from the fruit and the creamy topping.
I asked my mother if she would be willing to share the recipe with C&Z readers, and she said, "Oui, bien sûr!" She explained that it came from Woman's Journal, a now defunct British magazine she liked to read, and which my father always picked up for her when his work took him to London.
She brought me the page she had clipped out: the theme of the article was "American Bakes" and it included — oddly enough — a Mincemeat Crumble Cake. But when she took a closer look at the recipe, she said, "Wait. Actually, that's not how I do it at all," and proceeded to walk me through her version, which was indeed quite different from the one in print.
So it seems that the inability to follow a recipe runs in the family, and it is my mom's Apricot Coffee Cake, of course, that I share with you below.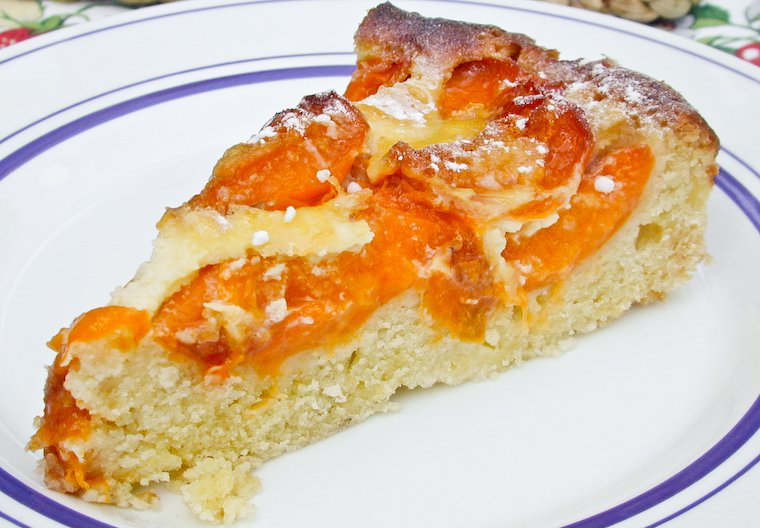 Have you tried this? Share your pics on Instagram!
Please tag your pictures with #cnzrecipes. I'll share my favorites!
Apricot Coffee Cake Recipe
Ingredients
225 grams (1/2 pound, about 1 3/4 cups) all-purpose flour
1 teaspoon baking powder
1/2 teaspoon salt
1/2 teaspoon baking soda
150 grams (1/2 cup plus 2 tablespoons) butter
100 grams (1/2 cup) sugar
1 egg, lightly beaten
1 tablespoon milk, or more as needed
500 grams (1.1 pounds) ripe apricots, quartered
1 tablespoon crème fraîche (substitute heavy cream and/or sour cream)
1 tablespoon sugar
1 egg
confectioner's sugar
Instructions
Preheat the oven to 180°C (360°F) and grease a 22 cm (9'') cake pan, preferably springform.
In a food processor, mix together the flour, baking powder, salt, baking soda and butter. Add in the sugar, and mix again. Add in the egg and milk, then mix again until just combined; avoid overmixing. The batter should be thick, but not dry; depending on the flour you used and its absorbency power, add more milk as needed.
Pour the batter into the pan and spread it around with a spatula. Arrange the apricots on top, skin side down, in a circular pattern.
In a small bowl, combine the crème fraîche, sugar and egg, and beat with a fork. Pour evenly over the top of the cake.
Bake for 40 minutes, until golden. Leave it in the turned off oven for another 10 minutes.
Serve slightly warm, at room temperature or cold, dusting with confectioner's sugar at the last minute.
Notes
The recipe can be made with other kinds of stone fruit, especially plums, or with rhubarb.
https://cnz.to/recipes/cakes-tarts/apricot-coffee-cake-recipe/
Unless otherwise noted, all recipes are copyright Clotilde Dusoulier.