I've recently set out on a mission to prune my cookbook collection, and it has felt wonderful.
It is not a quick process, but it's a fairly straightforward one: every weekend I pick one book, two at the most, to go through carefully, leafing through its every page and marking the recipes that call to me. For some I've already done the work years ago when I first acquired the book, and I have been surprised to see that few of the recipes I had tagged then still do anything for me now.
Soon enough the kale and sauce relinquish all their moisture, leaving you with crisp pieces of kale generously coated with an ultra flavorful, cheesy cashew crust.
Often times it's a type of recipe for which I've since found My One (say, my granola recipe or my chicken stock formula), and it feels great to sit back and cherish those without thinking I need to try every one else's version. Other times it's recipes that simply fail to spark the excitement of the cook I have become — and I have trouble even remembering what moved me to tag them in the first place.
Once I've marked the recipes I'm interested in, I decide if there are enough to warrant holding on to the entire book, or if I can just scan the corresponding pages and pass the book on to someone else. In the process I also take into account the non-recipe value of the book, of course: if it can serve as a reference book in my cooking and in my work, if it is particularly well written, or if I have an emotional draw to it (we're allowed those, right?). And if I decide the book can stay, I create a quick index card to list the recipes I've tagged and the page number, and slip it inside for future reference.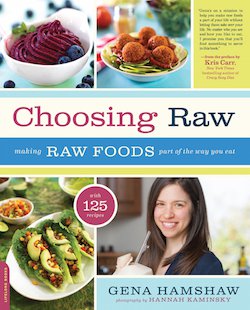 Gena Hemshaw's Choosing Raw is among the ones that recently made the cut, and with no hesitation: it's the first cookbook by the author of The Full Helping, and in it she shares her take on a vegan and (mostly) raw lifestyle. I admire Gena's writing on her blog — she strikes a rare balance between informative, inspiring, and approachable — and her book is just as enjoyable, as she provides the reader with the thorough information and delicious building blocks essential to plant-based eating.
Among the recipes I enthusiastically tagged was the one for cheesy kale chips. I've made oven-roasted kale chips before, simply dressed with olive oil and seasoned with salt and pepper, but this was my chance to reproduce the more substantial "cheesy" chips I've bought (and scarfed down) at natural foods stores in the US and in the UK, which typically call upon cashew "cheese".
It turned out to be one of the easiest and most rewarding recipes I've made in a while: you simply tear curly kale into bite-size pieces, dress them in a no-cook sauce whizzed in the food processor, and let the oven (or dehydrator) do the rest of the work. Soon enough the kale and sauce relinquish all their moisture, leaving you with crisp pieces of kale generously crusted with an ultra flavorful, cheesy cashew coating.
Join the conversation!
Do you like to make kale chips? What's your favorite flavoring or technique then? And how do you manage (or attempt to manage) your cookbook shelf?
PS: How to make the most of your cookbook collection, Cucumber and avocado quick nori rolls also inspired by Gena, and 50 Things to do with kale.

Have you tried this? Share your pics on Instagram!
Please tag your pictures with #cnzrecipes. I'll share my favorites!
Cheesy Vegan Kale Chips Recipe
Ingredients
1 bunch of curly kale, about 700 grams (1 1/2 lb)
130 grams (1 cup) unroasted and unsalted cashews, soaked overnight, drained, and rinsed
3 tablespoons fresh lemon juice
1 small red bell pepper, about 150 g (1/3 lb), seeded and roughly chopped
1 tablespoon white miso paste (shiro miso, available from Japanese markets and natural foods stores)
1/4 teaspoon fine sea salt
20 grams (1/3 cup) nutritional yeast
Instructions
Wash the kale carefully and spin it dry in a salad spinner. Cut off the spines (keep for soup) and tear the leaves into bite-size pieces, discarding any stringy bit that gets in the way. This should yield 400 grams (14 ounces) leaves. Spread out on a clean and dry dishtowel, and leave out to dry for 1 hour.

In the bowl of a food processor or blender, combine the soaked cashews, lemon juice, bell pepper, miso paste, salt, and nutritional yeast, and process until thoroughly puréed, scraping the sides of the bowl as needed.

Put the kale leaves in a mixing bowl and pour the sauce over them.

Stir the sauce into the kale until thoroughly combined; you could use a spatula, but in fact your (clean) hands will work better.

If using a regular oven:

Line one or two baking sheets (depending on their size) with parchment paper or a silicon baking mat, and arrange the pieces of kale in a single layer, leaving them a little space to breathe and making sure the leaves are all unfurled, with no thick glop of sauce on them, which would take longer to dehydrate.

Preheat the oven to 75°C (165°F) and dehydrate for 2 1/2 hours, or until completely dry and crispy, switching the baking sheets every half-hour or so, and flipping the chips halfway through.

If using a dehydrator:

Arrange the pieces of kale on two dehydrator trays lined with nonstick sheets, and dehydrate at 46°C (115°F) for about 8 hours, flipping the chips halfway through.
The texture of the chips is best on the day they're made, but they'll keep well for a couple of weeks in an airtight container.
Notes
https://cnz.to/recipes/vegetables-grains/cheesy-kale-chips-recipe/
Unless otherwise noted, all recipes are copyright Clotilde Dusoulier.