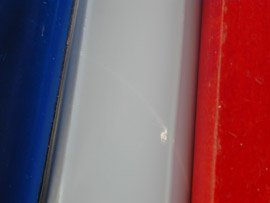 What is referred to as Bastille Day in the US is simply called le 14 juillet in France. What our national holiday celebrates, in case you don't know, is the day in 1789 when the French revolutionaries seized the Bastille prison, which was seen as a symbol of the royal oppression (it turned out to hold but a disappointing handful of half-forgotten and anonymous prisoners, but that's not what history chose to remember).
Le 14 juillet is a celebration with military parades, fireworks and bals des pompiers, those dances traditionally organized on village squares by the local fire brigade, and where many a happy couple was formed in the olden days, when the occasions to waltz were otherwise scarce.
When I was little, my family was usually on vacation in the mountains in mid-July, and the fireworks were a huge thing to look forward to and a unique opportunity to stay up late. There was also the exciting responsibility of holding a lampion, one of those colorful paper lanterns hooked to the end of a long stick, during the retraite aux flambeaux, a candle-lit walk around the town center to the fanfare music of drums and trumpets. And always, the heart-clenching fear that it would, quite literally, rain on our parade, and that the fireworks would have to be canceled.
But, to my knowledge, there is no special food tradition associated with the 14 juillet. This is not so surprising, considering that the original events of 1789 were initiated in great part because the French people was suffering a terrible famine, while the aristocracy held fantastic feasts in the privacy of their castles.
It isn't really customary either to wish anyone a happy 14th of July, like one might at Christmas (Joyeux Noël) or Easter (Joyeuses Pâques), but I like well wishes and would like to extend that one to you: Joyeux 14 Juillet!