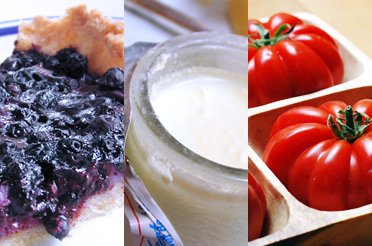 [Blue, White, and Red]
Today is the French national holiday, known in the English-speaking world as Bastille Day, but simply referred to as le 14 juillet in France.
I wish I could offer some sort of culinary tradition tied to this holiday, but as I explained in this past post, there is none: the celebrations revolve mainly around fireworks, military parades (I had to interrupt the typing of this post to watch the planes cross the sky above us, on their way to the Champs-Elysées), and dances. There may be grilled merguez vendors on the sidewalk here and there, but that's about it.
That's not to say, however, that one can't have a blue, white, and red lunch to mark the occasion: something tomato (say, a salad of coeur de boeuf tomatoes), something dairy (such as a Bordier yogurt from Saint-Malo), and something blueberry (ideally, a blueberry tart).
Joyeux 14 juillet! How are you going to celebrate?