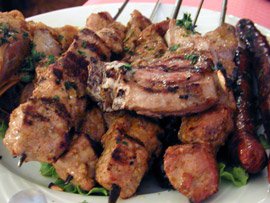 My cooking resume, if I had one, would have to say "Grilling experience : little to none".
Growing up in the city, in a non-grilling family at that, BBQ has never been part of my gastronomical landscape. In fact, I attended my first barbecue in the US, at the ripe old age of 21. I do love it though — the smell and taste of grilled food, but also the atmosphere, the joy of cooking outdoors and the fascination of working so close with fire, king of all elements.
I have no grilling gear, indoor or outdoors, and my recent schedule didn't allow me to properly prepare anything for the 6th edition of Is My Blog Burning?, the collaborative food blogging event, hosted this time around by Too Many Chefs on a grilling theme. But of course, not participating at all wasn't an option, so I chose instead to go out for a grilled dinner with Maxence, and share it with you.
In Paris, one of your best bets if you feel like a little grilled meat (grillades in French), is a couscous at a Moroccan restaurant. As it happens, there is a very good one called Le Dattier ("the date tree") just around the corner from my parents' apartment, where they've lived for the past seventeen years. It's been owned by the same family for as long as we can remember, and it was a regular destination for us when we felt like eating out, and a very convenient and stress-free way to entertain guests : pre-dinner drinks would be had at home, and then everyone would head out animatedly, walk twenty meters up the street, and take a seat at the pleasant terrace.
Couscous is a typical North-African dish of grilled meats, served with stewed vegetables (carrots, turnips, chickpeas, zucchini…) and semolina, this very fine wheat pasta which is traditionally ground by hand and left out to dry in the sun for weeks — in fact, semolina is what is usually (mistakenly, I think) referred to in the US as "couscous". The meat is mostly lamb skewers, lamb chops and merguez, those typical spicy sausages, but also chicken, although this may have been introduced to please Western palates.
Unsurprisingly considering its origins, couscous is a very social and convivial dish, because everything is served family-style in the middle of the table. A long wide plate contains the fine semolina, arranged in a perfectly regular mound, and you take a few spoonfuls of that first. Then, from a big white porcelain soup dish, you use the large serving spoon to help yourself to the vegetables and dark red stock, fishing carefully at the bottom to make sure you get yourself some of those chickpeas. And then, from the grilled meat platter, you help yourself to a skewer, or a sausage, or whichever piece strikes your fancy.
The veggies and semolina are provided on a relative all-you-can-eat basis and you can ask for more when you've worked your way through the first serving — but I never saw anyone try to push this to the limit, so I can't tell you for sure if there is one.
A little platter on the side holds some bread, a small plate of blond raisins to sprinkle on everything, and a silver cup of harissa, the typical spicy condiment from North-Africa, made with red chili and garlic. The spiciness of harissa can vary greatly, so it is advised to start with a conservative dab the size of a small hazelnut, deposited onto one side of the plate, until said spiciness is accuratly assessed.
All of this can be washed down with some wine, and we usually go for a grey wine from Morocco called Boulaouane — grey wine is a sweet and fresh Mediterranean wine, half-way between white and rosé.
And then when you're done, if you still have a teeny bit of room, you can ask for the dessert platter, which will be ceremoniously brought to your table, lusciously loaded with baklawas. Your gaze will hover a bit over this orgy of butter and oil and phyllo and kadayif dough and walnuts and almond paste, and pick the one you like best, shiny and golden, or matte and colorful.
Le Dattier
39 av. de la République
92400 Courbevoie
01.43.33.62.34