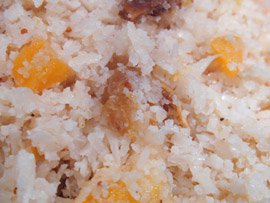 [Cauliflower Semolina with Dried Fruits]
Forenote : in the US, the term couscous is used to mean the North-African wheat pasta, shaped like very small beads. The actual name for this is, in fact, semolina — "semoule" in French. Couscous is the typical North-African dish which includes steamed semolina, as well as vegetables and grilled meat.
I made this recipe using a head of cauliflower I got in my Campanier basket. The poor thing had been in my produce drawer for a while : I received it as the days were becoming increasingly spring-like, and cauliflower was really the last thing I felt like eating. Zucchini, tomatoes, spring onions, young carrots, yes. Cauliflower, well, that was just a bit to wintery.
As an aside, I am considering marking a pause in my Campanier subscription : shopping for fresh fruits and vegetable is more colorful and fun in the summer, there are more types of produce available, and I think I'd rather have the freedom of getting whatever I feel like eating. We also haven't been consistently happy with the fruit we've been getting, it's been all too frequently just bland. And while I can tolerate an average apple, my nectarines have to be earth-shattering.
But back to the cauliflower : I was at a loss as to what to make with it, but ELLE à table, ELLE's cooking magazine, saved the day. I was clipping recipes out of the April issue and a recipe for Semoule de Chou-fleur caught my attention : it was served as a side to lamb liver skewers, and it required grating the cauliflower, steaming it, then seasoning it with the lamb's marinade (brought back to a boil of course, as is the food safety absolute requirement), and some dried fruits.
A sweet and savory recipe sounded like a very original way to use cauliflower, and it turned out very well : the cauliflower was a breeze to grate in my food processor, and it took on a very pleasant al dente texture in the steamer (I used my trusted Asian wicker baskets). The dressing was lovely, with just the right sweetness, and the complex taste of preserved lemons worked very well in this dish.
Citron confit (preserved lemon) is a staple condiment in North-African cuisine, and you can easily make it yourself. I made a jar about a year ago and am just now getting to the end of it. The Hungry Tiger recently gave a recipe for them, which is similar to the one I had used back then. You can omit the preserved lemon in this cauliflower recipe, but I do encourage you to make some yourself, it's easy and very rewarding.
The original recipe called for mint but I didn't have any on hand. It was still very good without it, but I'll try to add it in next time as I think it would nicely round out the color and taste of this dish.
And of course, if you're on a low-carb diet, as seems to be the case for half the the planet (or at least the Western, spoiled, overfed side of it), this is your chance to make mock-couscous!
Semoule de Chou-Fleur aux Fruits Secs
– one head of cauliflower
– a quarter of a preserved lemon
– 2 dried figs
– 2 dried apricots
– 1/3 C white wine
– 1 tsp honey
– 1/2 tsp harissa (the North-African hot sauce, sub another hot sauce or red pepper flakes – optional)
– 20 g butter, diced
– salt, pepper
– 8 leaves of mint
Grate the cauliflower, in a food processor if you have one. Arrange it in a steaming basket (two if your baskets are small), over a saucepan of boiling water, and steam for 10 to 15 minutes, until tender.
Keep only the skin of the preserved lemon, discard the flesh part. Dice it and the dried fruits finely. Chop the mint leaves.
In a small saucepan, bring the white wine to a boil, stir in the harissa and honey. Let simmer over medium heat until it has reduced to about half the original volume.
When the cauliflower is ready, transfer it to a salad bowl. Season with salt and pepper, add the butter, and toss to coat. Add in the marinade, dried fruit, and lemon, and toss again. Serve warm or at room temperature, adding the mint just before serving.
(Recipe adapted from ELLE à table n°31 : "Brochettes de foie d'agneau de lait, semoule de chou-fleur à la menthe")