Fresh lemon verbena is a recent newcomer to my herb repertoire. I was familiar with plain dried verbena, a popular constituent of French tisanes, but only this spring did I come across the amazingly vibrant and refreshing verveine citronnelle.
I have been steeping fresh leaves in hot water for a soothing after-dinner drink, cold-steeping them overnight to make an ice tea of sorts, and infusing them in browned butter — much like you would sage — to dress potato gnocchi. But I had yet to take the flavor much further.
The resulting sorbet was of an elusive shade, teetering between yellow and green, and it was the most refreshing thing ever to grace my ice cream machine.
And then one evening, we invited a friend over for dinner at the last minute. We were going to share the excellent leftover lamb we'd brought home from J'Go* the night before, and I planned to sauté some potatoes and dress a few greens to go with it.
For dessert, I felt sure I had everything needed to whip up a quick batch of lemon kefir ice cream, but it turned out I had drunk the last of the kefir, so I decided to make lemon sorbet instead, with some lemon verbena thrown in.
I thought of drawing out the flavor of the leaves by infusing them in hot water and using this infusion as the liquid element of the sorbet, but I doubted there would be enought time to chill the mixture properly before churning. It also seemed more appealing to try and capture the vibrancy of the fresh leaves, some of which gets lost when the leaves are dried or steeped, so I opted for the lavender sugar approach, whizzing the lemon verbena leaves with the sugar into a moist, lemon verbena sugar, which I would then use to sweeten and flavor the sorbet.
Because I worried the little flecks of ground leaf might get in the way of the texture, I strained the mixture before churning. The resulting sorbet was of an elusive shade, teetering between yellow and green, and it was the most refreshing thing ever to grace my ice cream machine.
My friend Estérelle says she makes panna cotta flavored with lemon verbena, which sounds lovely. I think it would also make a good rub for a lamb shoulder, or a syrup to drizzle over strawberry-filled crêpes; if you have your own clever uses for lemon verbena, I'd love to hear them.
* Yes, you read that right! We had dinner at a Paris restaurant and we took the leftover meat home! Maxence asked, and they gave us a doggy bag! A doggy bag! In Paris! We were floored, and enjoyed our reheated gigot even more.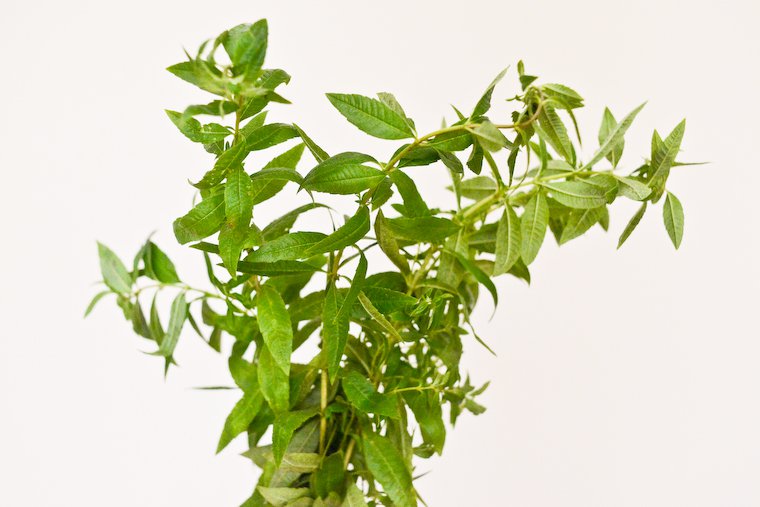 Have you tried this? Share your pics on Instagram!
Please tag your pictures with #cnzrecipes. I'll share my favorites!
Lemon Verbena Sorbet Recipe
Ingredients
15 grams (about 2 cups) fresh lemon verbena leaves, rinsed and gently patted dry
180 grams (1 cup minus 2 tablespoons) unrefined cane sugar (the soft kind, not granulated)
one large organic lemon, scrubbed
1 tablespoon limoncello (optional, but a bit of alcohol helps keep sorbet smooth)
Instructions
In the bowl of a blender or food processor, combine the lemon verbena leaves and the sugar. Using a vegetable peeler, shave three strips of zest from the lemon, and add them in. Process until finely ground.
Transfer to a mixing bowl, add the juice of the lemon, the limoncello if using, and 600 ml (2 1/2 cups) cold water. Whisk to combine, cover, and let this mixture steep in the fridge for 2 to 3 hours.
Strain through a fine sieve to remove the little flecks of leaf (teeny bits may remain, but that's okay), and churn in the ice cream maker. Serve with hazelnut cookies, very ginger cookies, or some of those heart-shaped gingerbread cookies you bought the other day because who says there is a season for gingerbread cookies?
The texture is best when the sorbet is freshly churned. If you have leftovers, apply a piece of plastic wrap closely to the surface to prevent crystallization. Let the sorbet soften for 20-30 minutes in the fridge before serving.
Notes
If you don't have an ice cream maker, you can make this as a granita. Prepare the mixture in the morning. Strain it 2 hours later, pour it into a freezer-safe container (preferably glass or metal), and place in the freezer. An hour later, remove the container from the freezer, scrape and draw the sides in with a fork (the mixture will set from the sides in), stir vigorously, and return to the freezer. Repeat every hour. The granita will be ready by dinnertime.
https://cnz.to/recipes/ice-cream-sorbets/lemon-verbena-sorbet-recipe/
Unless otherwise noted, all recipes are copyright Clotilde Dusoulier.