Tarte aux myrtilles
Blueberries are by far my favorite berry, and this has been true for as long as I can remember. Something about their color (blue), their size (tiny), and their taste (tart and sweet) really appeals to me. As luck would have it, much like blackcurrant in Burgundy, blueberries are the emblematic berry in the Vosges, where they grow by the bushload up the steep mountain slopes, and go by the name of brimbelles.
When we went to the market yesterday morning, all the produce stands had them, in sumptuous overflowing crates, and I pleaded with my mother for us to bake a tarte aux myrtilles: the family tradition (read: weird rule) is to stick to the blueberries we pick ourselves, but for some reason it's still a bit early this year to find any on our side of the mountain. And yet, I really really wanted a blueberry tart, and I was going back to Paris just a couple of days later, and I wouldn't be there anymore when they were fully in season and we could go blueberry-hunting with our little buckets and climb up above the paths and take care not to step on the shrubs and risk our lives and turn our fingers blue and compare the weight of our respective bounties when we get home and bake cakes and tarts and make jam.

So my mother said all right, all right, we'll buy blueberries and make a tart.
And so we did, enjoying it in the veranda at teatime, when we returned from our daily afternoon hike. I'm not sure if it is the sweet crunchy crust, or the soft and intensely flavorful fruit layer, or the bright blue smiles everyone has afterward, but really, aren't blueberry tarts something.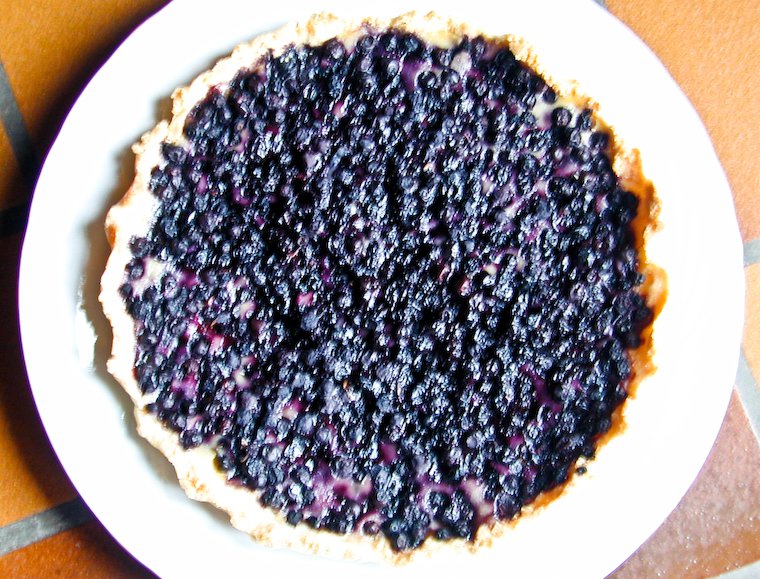 Have you tried this? Share your pics on Instagram!
Please tag your pictures with #cnzrecipes. I'll share my favorites!
Ingredients
For the tart shell:

170 grams (6 ounces) flour
85 grams (7 tablespoons) sugar
85 grams (6 tablespoons) butter, plus extra for greasing the pan
a dash of milk

For the filling:

300 grams (1 1/2 cups) blueberries
1 tablespoon crème fraîche or sour cream
1 tablespoon sugar
1 large egg

To finish:

1 tablespoon sugar
Instructions
Preheat the oven to 200°C (400°F), and grease a shallow 22-cm (9-inch) tart pan with butter or line it with parchment paper.
Prepare the dough for the tart shell. In a food processor, process the sugar and butter until fluffy. Add in the flour and process until the dough forms coarse crumbs. Add in a dash of milk, and mix again. It will still be a loose, crumb-like mixture, not a ball of dough. Pour into your tart pan, and press down evenly to pack it and cover the surface of the pan, forming a little rim all around. Put in the oven to bake for 20 minutes.
Take the tart shell out and lower the temperature to 180°C (360°F). Pour in the blueberries, and return to the oven for 15 minutes.
In a small bowl, beat together the crème fraîche, 1 tablespoon sugar and the egg. Take the tart out of the oven, pour the mixture evenly over the blueberries and return to the oven for another 15 minutes, or until set.
Let cool completely, and sprinkle with a tablespoon of sugar just before serving.
https://cnz.to/recipes/cakes-tarts/blueberry-tart-recipe/
Unless otherwise noted, all recipes are copyright Clotilde Dusoulier.