As my trusted friend the Webster tells us, a meme is "an idea, behavior, style, or usage that spreads from person to person within a culture". In the blogosphere, a meme can be a questionnaire about a particular theme — your tastes in music or books, 100 things about you, etc. — that you reply to on your blog and pass along. Nicky started such a meme just a few weeks ago called the cook next door, giving us all a chance to talk about the hows and the whys behind our food obsessions. The added bonus (made possible by her and Oliver's impressive web design skills) is that she follows the meme's progression, thus mapping out our ever-growing food blog neighborhood.
What is your first memory of baking/cooking on your own?
I believe my first cooking adventure was mastering the art of the microwaved oeuf cocotte when I was nine. The first thing I baked on my own was the Gâteau au Chocolat de Csaba when I was about twelve, a classic family recipe given to us by a friend who's originally from Hungary. My rendition was somewhat undercooked in the center and my friends would only eat the outer rims. In retrospect, I like to think it was a molten chocolate cake and I was simply a misunderstood visionary. Ahem.
Who had the most influence on your cooking?
In order of appearance: 1- my mother, 2- the Internet. My mother is a superb cook and baker, and the countless hours I spent with her in the kitchen — watching, helping, licking the bowls — have undoubtedly laid the foundations for my own cooking. The rest of what I know has been gleaned not so much in books or cooking magazines, but rather on websites, forums and of course, blogs.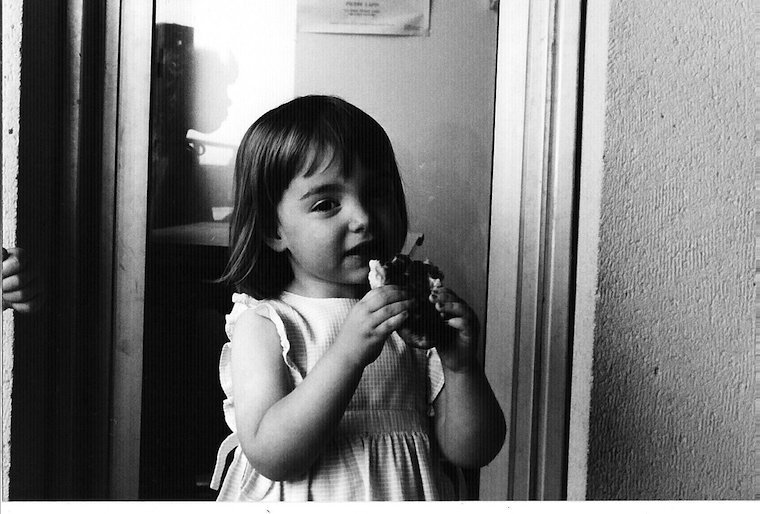 Do you have an old photo as "evidence" of an early exposure to the culinary world and would you like to share it?
My parents were kind enough to search through the box of old family pictures, and although we don't seem to have any of me cooking or baking, they did find a few in which I'm eating. The photo at the top of the post was taken when I was six, eating a plate of salade composée — most likely lunch on a Saturday. On the second one I am three, and I am eating what seems to be a tartine of baguette, spread with (yum) butter and jam.
Mageiricophobia – do you suffer from any cooking phobia, a dish that makes your palms sweat?
I seem to consistently avoid kitchen situations that involve yeast or beating egg whites until stiff. Somehow the chemistry behind these things feels like pure magic and I don't quite believe I could recreate it in my own kitchen. I often think that I should just throw myself off the cliff, bake some brioche, buy an electric whisk, and conquer both fears, but I still haven't gotten around to it!
What would be your most valued or used kitchen gadgets and/or what was the biggest letdown?
Just like my stuffed animals when I was little, I am reluctant to name a favorite, for fear that the others will be heartbroken. If you twist my arm (but please don't), I would probably admit my chef knife to be the tool that most improved the quality of my cooking life. The biggest letdown would have to be the cheap electric grill press that we bought in the US: we used it once, realized what an absolute pain it was to clean — the metal plates weren't detachable so you couldn't soak them in the sink, you made a mess on the counter and the whole thing remained sticky with grease — and forever banned it to the back of a kitchen cabinet.
Name some funny or weird food combinations/dishes you really like – and probably no one else!
I probably love ketchup a little more than your average Joe (Jane?) and this has occasionally stirred a few outraged reactions, but apart from that, my tastes don't seem to shock anyone around me — or maybe they're too polite to say?
What are the three eatables or dishes you simply don't want to live without?
That's easy: chocolate, zucchini and bread. Oh, wait. Can I make it four and throw cheese in there too?
Your favorite ice-cream
As a child I was a die-hard mint chocolate chip fan, but now I like variety and I guess any ice-cream that's rich and creamy, intensely flavored but not overly sweet, will be my friend. If it has chunks of things in it, it will be my very good friend.
You will probably never eat…
I can't guarantee I wouldn't recoil before the actual deed, but if given the opportunity I would gladly taste insects, reptiles, or anything that's usually considered gross in Western culture but normal and/or a treat in others.
A common ingredient you just can't bring yourself to stomach
However much I've tried, I can't seem to warm up to spinach or endives: they're the last vestiges of my childhood dislikes.
Which one culture's food would you most like to sample on its home turf?
I've had a longtime fascination with Japan and its multifaceted cuisine, and it is definitely my #1 most yearned for destination right now.
Any signs that this passion is going slightly over the edge and may need intervention?
Um, let's say that food and writing have become such an integral part of me and my life now, that I don't know what would be left if it had to be surgically removed!
Any embarrassing eating habits?
When I eat, the back of my mind is busy organizing the best strategy to eat what's on my plate, so that the front can enjoy its contents optimally — something I've written about here.
Who would you want to come into your kitchen to cook dinner for you?
My grandmother. She used to cook and bake wonderfully for her large family and many friends, but she is now in her nineties and unfortunately her health prevents her from standing for too long in the kitchen. We often talk about cooking, she shares recipes and tips and I try to learn as much as I can, but I wish I had gotten interested in cooking earlier so I could have played with her in the kitchen.
Who's your favorite food writer
[General food writing] I recently started reading MFK Fisher
and deeply admire her work. I am in awe of the atemporal feel that her essays have, and I find her words strangely comforting.
[Restaurant reviews] I really enjoy François Simon's writing (in French). Amongst other things, he writes for Le Figaro and Le Figaroscope and he's the kind of writer who has developped a unique writing style and a vocabulary of his own — a pleasure to read. He has also published a few books which I should check out.
[Cookbooks] My favorite cookbook author is Trish Deseine
, who writes simple, inventive, reliable recipes — sort of like Nigella, only Irish and living in France.
Three people to pass this along to
I hope I'm not double-tagging anyone, but I'd love to see what these delicious bloggers have to say: Caryn from Delicious! Delicious!, Heidi from 101 Cookbooks, and Debbie from Words to Eat By.
[Many thanks to Louisa for passing me the stick, and to Nicky & Oliver for starting this meme and keeping up with it so well!]