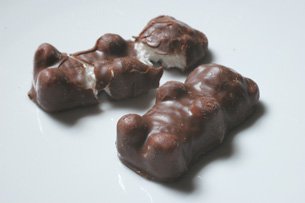 Yup, yet another food-related meme, for which I was tagged by both Pascale and Jacqueline. This one has you indulge in the reminiscence of five childhood food memories. Here are mine!
Les Nounours à la Guimauve
When we had a little pocket money my sister and I would drop by the boulangerie around the corner from school to buy candy. The display case was visible through the window so we would stand there for a little while trying to decide what to get, for once inside, the boulangère, paper bag in hand and an eye on the growing line of more worthy customers, had little patience for hesitant children. Malabars bi-goût (huge pink chewing-gums that made the coolest bubbles, the bi-goût variety having two flavors), chewy ribbons coated with acidulated sugar (red was my color of choice), edible necklaces, and my all-time favorite: the chocolate-covered marshmallow teddy bear, from which I would bite the head off first — quick painless death for the teddy bear. Maxence and I still buy them occasionally, whipping them out in the late hours of a party and watching everyone's eyes open wide with childish gourmandise.
Le Poulet Rôti du Dimanche
For lunch on Sundays, my mother would often make her perfect roasted chicken, with sauteed potatoes and green beans. The chicken made plenty of juice, and the much-anticipated treat at the end of the meal was to soak it all up with pieces of fresh baguette. At some point though, my parents decided this wasn't the healthiest thing you could feed your kids or yourself and we stopped doing it, but I still remember how we all gathered around the baking dish in the sun-drenched dining-room (it's always sunny in my memory), expertly maneuvering our forks to get the wonderful caramelized bits and salty juices on the thin crunchy baguette.
Les Sandwiches au Nutella
My favorite breakfast for years on end was a Nutella sandwich. Two square slices of white bread would be toasted, one would be spread with the world's most popular chocolate-hazelnut paste, the crusts would be sliced off and the whole thing cut in two rectangular halves. I loved it and can still feel the thick sensation of velvety chocolate sticking to the roof of your mouth while you chewed on the warm crunchy bread. It wasn't very big really, but I had a small appetite and often couldn't finish it. And instead of throwing it out, I had a habit of taking it back to my (very messy) room "for later". The leftovers were promptly forgotten in the back of a shelf or inside my little desk, quietly getting stale until my mother discovered them days later.
Les Coquillettes au Jambon et au Gruyère
If my memory serves me right, this was what my mother sometimes cooked for us before my parents went out for the evening. I don't remember being at all bothered that they were going out without us, and in fact I really liked seeing both of them get all dressed up and ready to go while we sat in the kitchen in our pajamas, eating our bowls of elbow macaroni tossed with shredded ham and gruyère cheese (grated with our vintage orange mouligrater). I still crave this from time to time, it is still delicious and I still serve it to myself in a bowl, but I don't wear the bib now.
Les Amandines
When we were on vacation in the mountains during the summer we often bought pastries at the local bakery for the goûter (the afternoon snack) and my personal favorite, available from most all bakeries, was the Amandine: a little tartlet filled with frangipane (a mix of butter, sugar and ground almonds), covered with slivered almonds and topped with a translucent glaze and half a candied cherry. The cherry I usually discarded, but the tartlet I devoured. There was something comforting about having a standby favorite I always went for and always liked, shielding me from the vertigo of too many choices. How odd it is to remember that and how differently I feel now, constantly yearning for new tastes and new experiences!