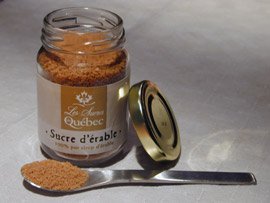 When my parents came over for lunch a few weeks ago, my mother, who knows me oh-so-well, brought me a cute little jar of maple sugar from Quebec. It is made by a company called Les Sucres du Quebec, which makes a variety of maple-based products.
I love, love, *love* maple syrup, and I'd never had maple sugar before, so I was very intrigued, and it's delicious! It's crystallized like muscovado sugar, but the crystals are more fragile and collapse faster in your mouth. The maple flavor is distinctly present and yummy. Add to this the very special taste of things given to you by your mom, and you've got the perfect topping!
So far, I've had it mostly with yogurt, using my technique of layering – not mixing – to keep the texture intact : sprinkle a thin layer of sugar, eat the few spoonfuls of yogurt thus flavored, re-sprinkle a layer on the remaining yogurt, etc. (Please tell me I am not the only one out there elaborating yogurt-eating techniques?) I have to try it on buttered toast and crepes, too.
The closest things I had ever tasted to this were maple fondants, those cute soft candies shaped like little maple leaves, imported from Canada. They were entirely too sweet for me though, it felt like eating a spoonful of sugar – and coming from me, that has to tell you something! Now that I think about it, maybe they were meant to be nibbled on alongside a cup of tea, to balance the sweetness?
The other Sucres du Quebec products all sound really good (a butter, a jelly, hard candy, lollipops, as well as syrup and the aforementioned fondants ), and are sold at the Lafayette Gourmet store in Paris.