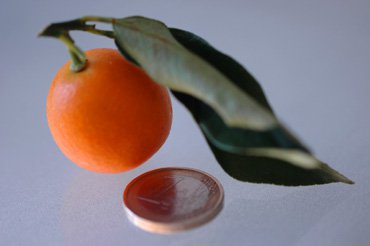 [Kumquat from Corsica]
I wrote a little ode to the Corsican clementine last winter, but it turns out one shouldn't flatter a citrus too much, lest it rest on its laurels and the following year's crop be a disappointment.
All was not lost, however, on the citrus front: the maltaise orange from Tunisia was honey sweet and remarkably juicy, and a recent visit to the organic market turned up this novelty, at least to me: kumquats from Corsica, bright orange marbles that glowed like miniature lightbulbs.
I'd bought fine specimens earlier in the season, but these belong to a different variety, rounder in shape and even tastier.
If you can get past the multiple seeds — there can be five or six packed in there, probably driving one another batty — the reward is a chewy, juicy and all-natural sourball, so sweet and acidulated you may indeed pop them like candy.
The citrus season is drawing to a close and I don't know how much longer these will be available, but on the off chance that you visit the Batignolles market tomorrow morning, you will find them at the produce stall that's the second to last on your right when you're coming from the Rome metro station.