The French have a saying that goes, "En avril, ne te découvre pas d'un fil," which means that April is generally too early and too chilly to remove layers of clothing. It has certainly been true this year, though we have had beautifully sunny weather in Paris. I have been to the greenmarket a couple of times with my sons, and we picked out these beautiful, fresh tulips — one of my simplest recipes for happiness.
The sister saying to the above is, "En mai, fais ce qu'il te plaît !" (In May, do as you please) and I intend to do just that.
Good Eats From This Month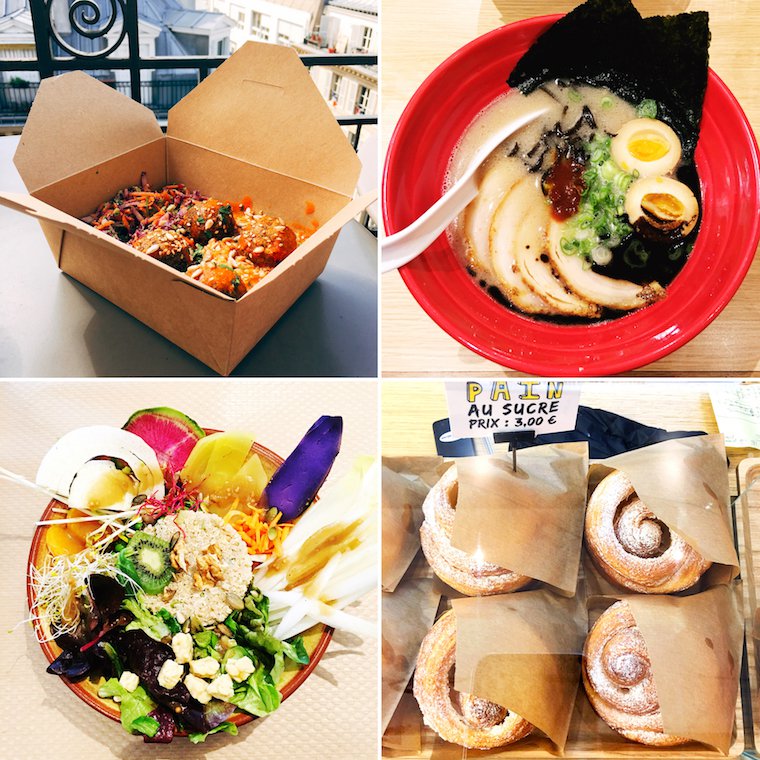 • The gorgeous weather has made it possible to have a few balcony lunches (bundled up) in the sun. What bliss! Pictured here is the veggie hotbox from Nous. Is it al fresco dining weather yet where you live?
• The famous ramen house Ippudo has recently opened its first French outpost, and their Akamaru special was the best bowl of ramen I've had this side of Tokyo. (See highlights from my trip to Japan.)
• They say you should eat the colors of the rainbow and I can't think of a more delicious way to do so than this toss-it-yourself quinoa salad from vegan haven Le Potager de Charlotte. What's your favorite way to eat the rainbow?
• How lucky am I that the first Éclair de Génie café has opened right in my neighborhood, on rue Lepic? It offers delicious éclairs galore, of course, but also these irresistibly flaky rolls of brioche feuilletée. Pictured here is the plain version, but they also come in apple, raspberry, or chocolate. Which one would you get first?
Check my map of Paris favorites and follow me on Instagram to see many more food shots throughout the month.
Latest Reads
More reading recommendations »
5 Cool Links
Follow me on Twitter and on Facebook for many more links throughout the month.