I am always curious about other people's routine, and my favorite section in the French magazine ELLE is the page near the end where a personality shares a typical day in their life. I recently had the opportunity to do just that for an Instagram takeover of One Woman Shop, a community of female solopreneurs, and I thought I would share that little photo essay with you here.
Ready to go behind the scenes and experience a day in the life of a Parisian food writer? Here's what it looks like.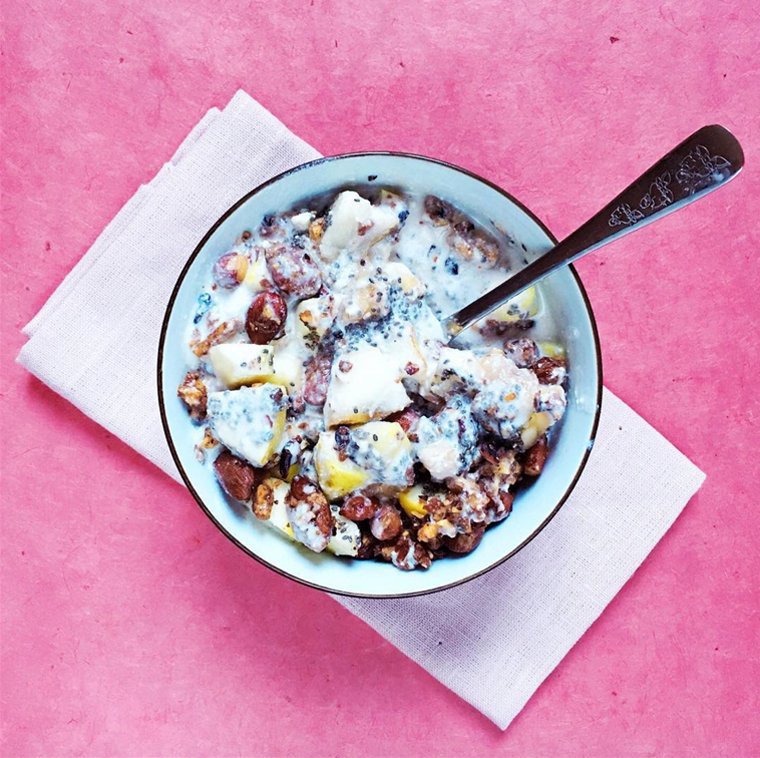 Once my two sons (Mika is 1 and Milan is 4) are off to daycare and pre-school respectively, I take a few minutes to straighten out the apartment (I can't concentrate otherwise), and I sit down to meditate for a little bit using my Muse headband. It is then time for me to make myself breakfast while listening to my favorite podcasts about food, business, life, or parenting.
I go through breakfast phases, but these days I'm all about my paleo granola with some cut-up banana and apple, chia seeds, and coconut milk. This I eat while I read a magazine, or catch up on my email and social media accounts.
What's your breakfast of choice to give you energy as you kick off your day?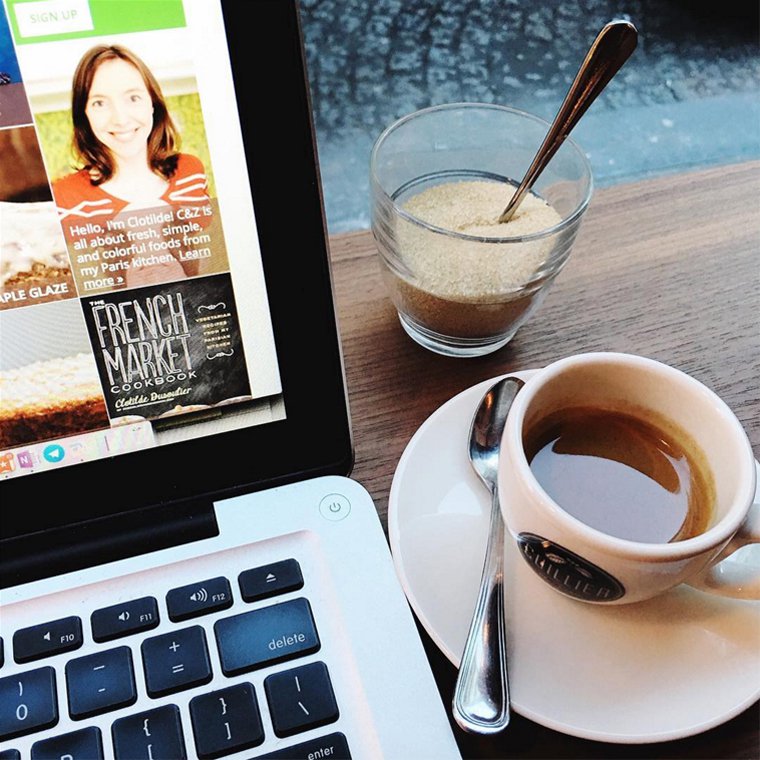 Most of the time I work from home, but I also like to mix things up and take my laptop to a nearby coffee shop. I usually achieve laser-sharp focus then, and if I need to hammer something out — say, a freelance assignment for a magazine — the background hum of conversations helps me concentrate.
Is that true for you also? And do you know there's actually a coffee shop noise simulator you can use if you prefer to stay home?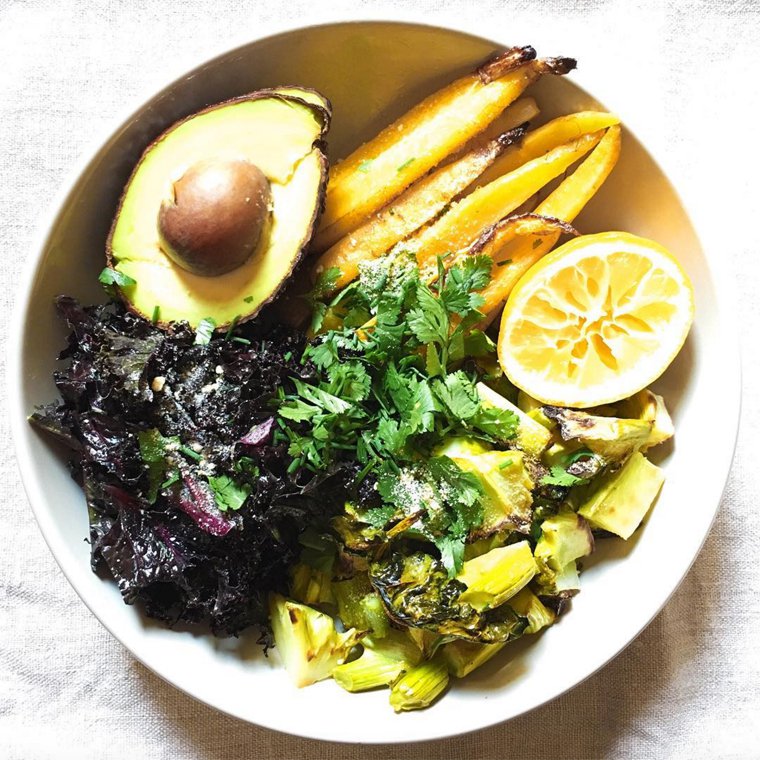 I love lunch dates with friends or professional contacts, but I find it eats up (pun intended) a good portion of my day, so I alternate weeks with dates and weeks without to make sure I preserve vast expanses of time to work, which is my preference.
If it's a home lunch day, I'll put together a simple vegan lunch bowl with bits and bobs I have in the fridge: here, it's roasted broccoli, roasted yellow carrots, massaged purple kale, and half an avocado. Over this I drizzle some sesame oil, add a squeeze of lemon juice, and sprinkle some cilantro and vegan parmesan (nutritional yeast + cashews + garlic, blended finely). I am an omnivore, but when I'm on my own I am usually drawn to vegan eats.
What do you typically make for lunch if/when you get to work from home?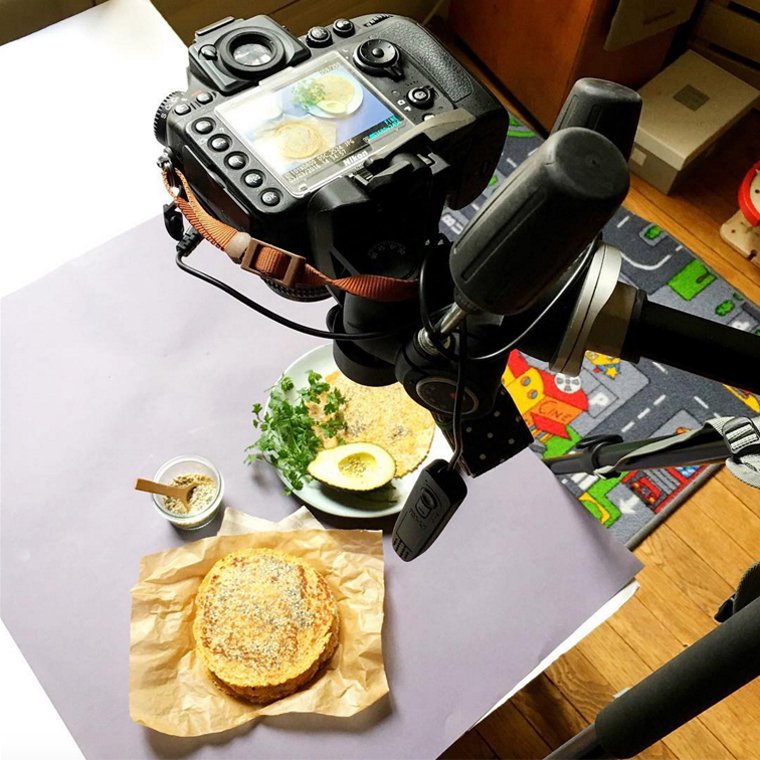 When I am developing a recipe, I take advantage of the nice early afternoon light in my living room to style and shoot it. In this picture, I was photographing my sweet potato flatbreads with an "everything" topping — a recipe I l.o.v.e. Attentive observers will notice my eldest son's play rug on the floor and a tiny corner of his toy garage. Keepin' it real, here. (To find out more about the photo equipment I use, check my resources page.)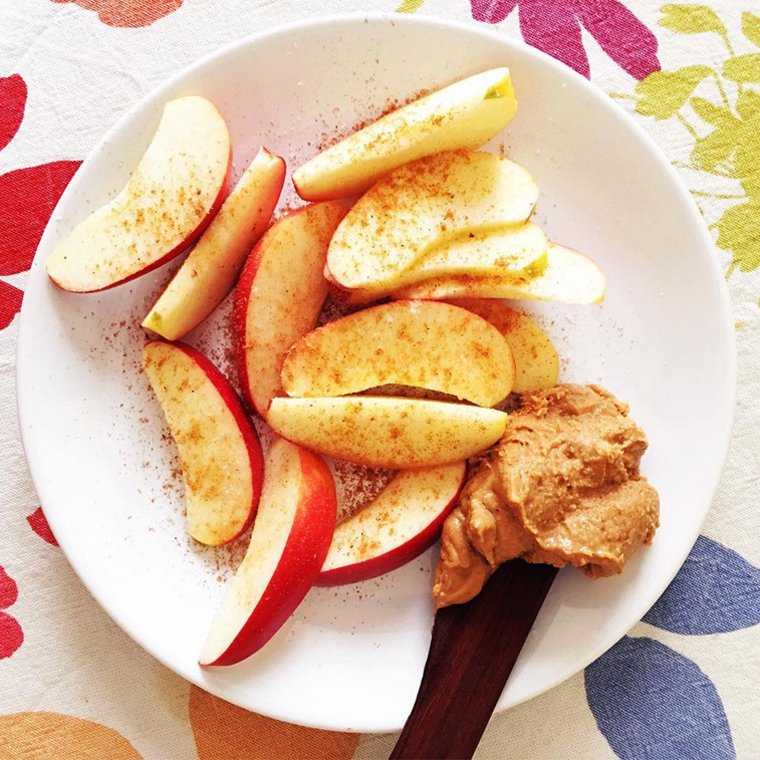 When I'm in the mood for an afternoon snack, I cut up a crisp apple (pictured here is a Reine des reinettes I'd brought back from a vacation in the Perche), add a dollop of almond or peanut butter, and sprinkle with a little salt and freshly grated cinnamon. My treat of choice, refreshing and satisfying! The cinnamon is from Cinnamon Hill and the wooden spreader is from Earlywood Designs.
What's your favorite healthy snack to have when you need a pick-me-up in the afternoon?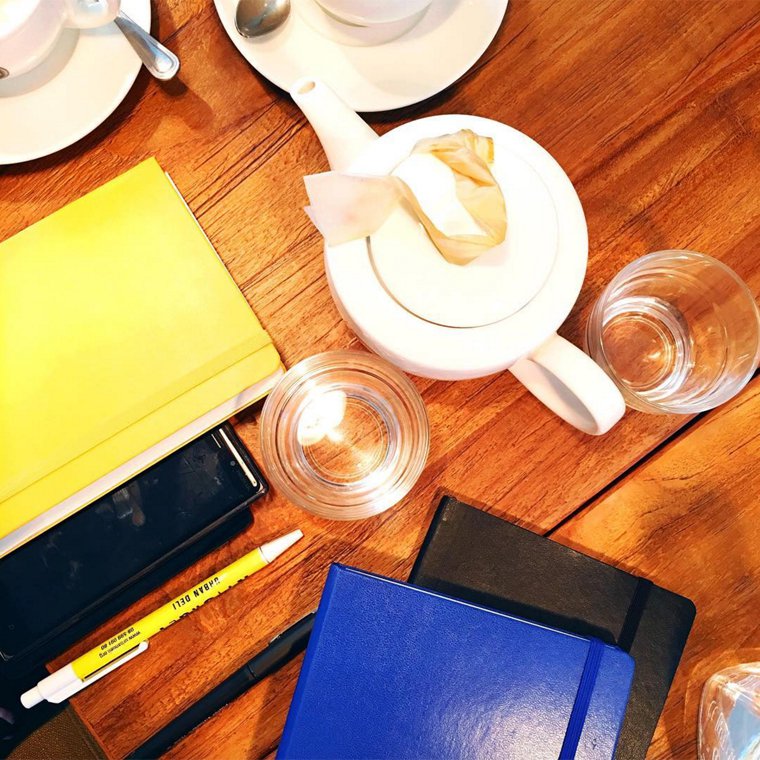 Second coffee shop stop of the day for a session with my mastermind sisters! A mastermind group is a small group of like-minded professionals who get together on a regular basis to share their successes and struggles, provide accountability, and offer feedback, advice, and resources.
I belong to two such groups — one where we meet over Skype, the other in real life — and it has had an immeasurable impact on my work life. I recommend it to anyone who'll listen; if you want to know more about the concept, read this and this.
–> And get my FREE mastermind swipe file to get started!
Do you belong to a group like this? If not, do you think you would find it helpful?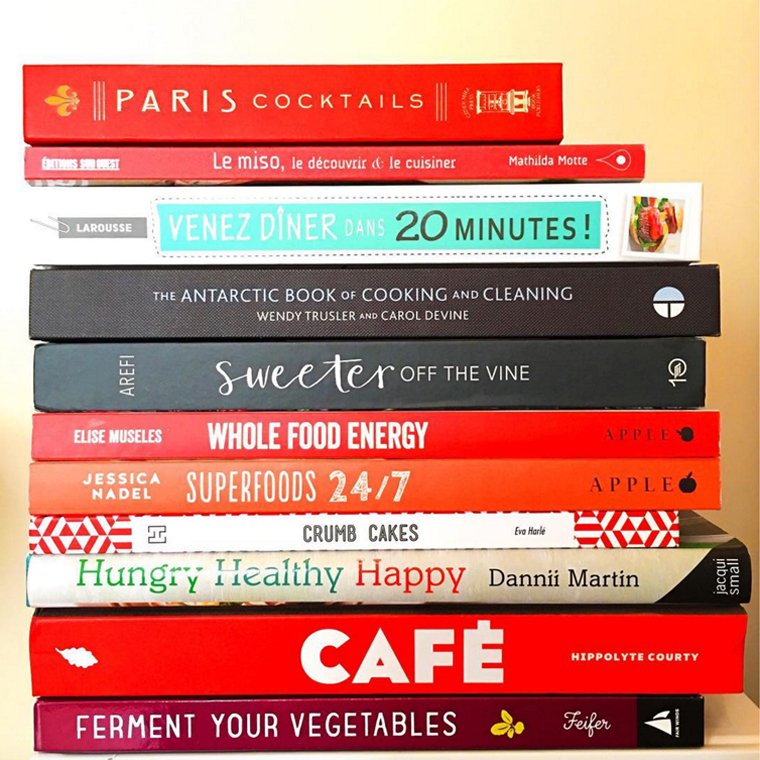 As part of my work, I receive review copies of food-related books, both in French and in English, which is definitely a perk for me! As I unwind from my day, I take a little time to leaf through a few to see if they would appeal to C&Z readers. If so, I may use a recipe from the book as inspiration for a post, crediting the author's work, and/or organize a giveaway in partnership with the publisher.
Pictured here are (top to bottom): Paris Cocktails, Le Miso, Venez dîner dans 20 minutes, The Antarctic Book of Cooking and Cleaning, Sweeter Off The Vine, Whole Food Energy, Superfoods 24/7, Crumb Cakes, Hungry Healthy Happy, Café, and Ferment Your Vegetables.
And this wraps up the photo essay of my work day!
This is when I get back to my sons, put the finishing touches to dinner, and sit down to eat with the whole family. Then it's bedtime for the kids, and us-time for the adults. I sometimes work again at that point if I'm working on a particularly pressing or exciting project, but I try to avoid it as healthy sleep is a huge priority for me, and working late gets in the way of that.

I hope you enjoyed this. Feel free to share bits of your routine that may be similar or completely different: like I said, I am very curious about the minutiae of other people's days!