When Brad Bernhart got in touch a few weeks ago to tell me about his Montana-based woodworking operation, I was instantly drawn to his tone and philosophy. Brad is a trained mechanical engineer who took to carving wooden utensils in his spare time, and found that people were so enthused by his innovative designs that he decided to launch his own company, Earlywood, two years ago.
As I first held the biggest spoon in my hand I felt a flutter, a thrill, unlike anything I've ever felt holding a kitchen utensil.
I feel a natural kinship with people who take a leap of faith and reinvent themselves, and I am also deeply drawn to beautifully crafted wooden objects, so I enthusiastically accepted Brad's offer to send me a few of his best-sellers.
When the package arrived I disrobed the items from the tissue paper one by one, and as I first held the biggest spoon in my hand — a ladle made of jatoba wood — I felt a flutter, a thrill, unlike anything I've ever felt holding a kitchen utensil.
The heft of it in my palm, the simple elegance of the shape, the fine grain of the wood, all conspired to make this feel like an extraordinary object, one that is equal parts beauty and function.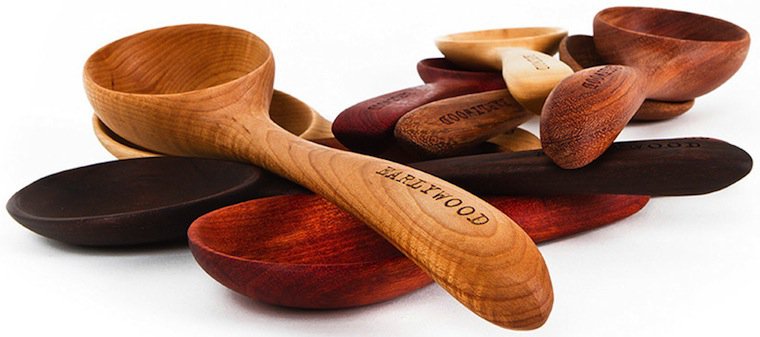 In the selection there were also different-size sauté spatulas made of Mexican ebony, which have quickly displaced the wooden spoons I normally use; gorgeous bloodwood scrapers designed to comfortably handle the toughest jobs in your kitchen; and a set of attractive spreaders, which look like wooden butter knives and have already become a favorite to spread almond butter on my morning toast.
In addition to being smitten with the products themselves, I am also impressed with Brad's approach: in how much detail he describes the different wood types he uses, how he's gotten involved with a reforestation effort to help compensate for the resources he uses, how forthcoming he was when I inquired about the food-safe mineral oil he uses to finish his utensils**, and how remarkably affordable his products are.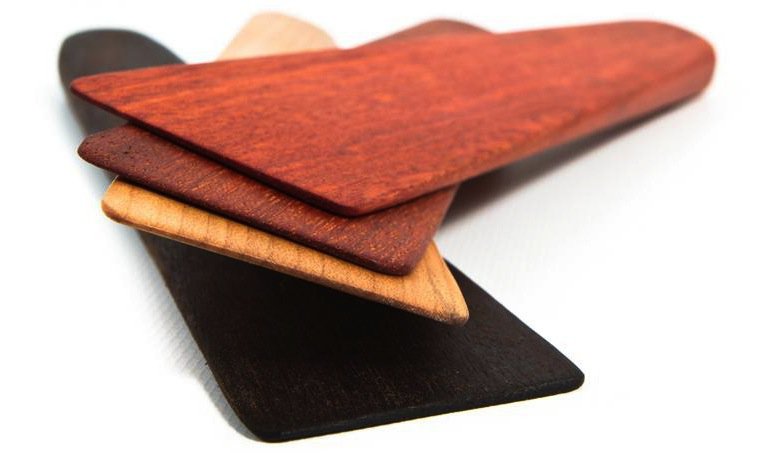 And now, for the giveaway!
The good news is, Brad has put together a generous prize for readers of Chocolate & Zucchini to win, and in this set (a $170 value) he will include:
To participate, leave a comment below (in English or in French) telling me about your most beloved kitchen utensil, and why it holds such a special place in your heart. And please consider following Earlywood on Facebook!
You have until Tuesday, December 10, midnight Paris time to enter; I will then draw one entry randomly and announce it here. Brad has agreed to ship internationally, so you're welcome to play regardless of your location*; please make sure you enter your email address correctly so I can contact you if you win.
And if you want to go ahead and place an order without waiting to know if you've won the prize (aren't the holidays coming up or something? wouldn't everyone on your list love to receive, say, a trifecta set?), Brad is offering a 15% discount on your order if you use the code chocolate & wood at checkout.
WE GOT A WINNER!
I have drawn an entry at random using random.org (see screen capture below), and I am pleased to announce the winner is Megan Jirschele, who nominated her trusty wire whisk as her favorite kitchen utensil.
Congratulations Megan, and thank you all for entering! It's been heartwarming and entertaining to hear about all of your favorites.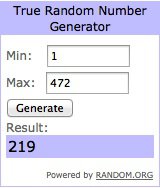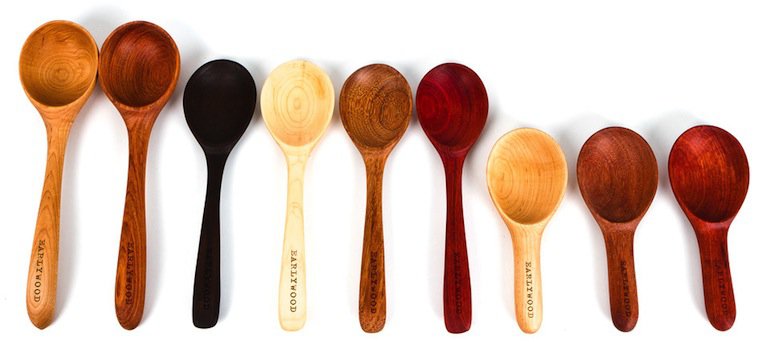 * Please note that if you are outside the US and Canada, the package may be subject to customs and sales taxes on reception, and these will be at your expense; check with your local postal services to know the details.
** I had asked, "I understand mineral oil is most often derived from petroleum, which doesn't make me want to put it too close to my food, but I notice you call your mineral oil food-safe and I was wondering if you could elaborate on that?"
Here's what he responded: "Mineral oil itself is always derived from petroleum, but the mineral oil that I use (and that is used in a large majority of skin products out there by the way) is really 100% foodsafe. I have attached the MSDS safety sheet for what I use if you happen to want to get into the details. It is an industry standard to treat spoons and cutting boards with mineral oil.
There are plenty of other options like olive, walnut, vegetable, etc. oils that you can put on wooden utensils, but they are all food products and can and will eventually go rancid or discolor (usually yellow) and thicken to where you will have a thick sticky coating on whatever you're treating with them. Maybe you've seen an old cutting board at a garage sale that is all yellow and kind of sticky. That's because someone used a food oil to treat their wood.
So, the mineral oil is colorless, odorless, tasteless, doesn't dry and form a coating that will chip off in your food, will never discolor or go rancid and is 100% foodsafe.You can actually drink it (although it will have a laxative effect if you drink enough). The amount that is soaked up by 1 of my utensils is just a tiny fraction of what you would need for that effect and is even less than would be soaked up by other manufactures utensils because the woods that I use for my utensils are so hard.
I hope I didn't bore you with that, but those are the facts!"
Disclosure
Brad Bernhart sent me samples of his products to try, with no obligation or compensation to write about them. All opinions and heart flutters expressed are my own. He has since then set up an affiliate program for his online storefront, so if you click through to his store and make a purchase, I will get a commission on that sale.