I want to express my sincere thanks to all of you who took the time to share recommendations for my stay in Stratford and Toronto. I spent most of my time in Stratford and very little in Toronto, so I feel another trip is in order to explore the city and try many more of the tempting places you wrote about. But I did make it to Chinatown, to the Kensington and St-Lawrence markets, and to the Distillery District (all in one walk-intensive afternoon).
And even though I spent little more than a day in Toronto, my picks for this week's Three Very Good Things are all drawn from the city: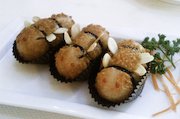 ~ Bumble bee dessert dumplings at Lai Wah Heen. I had a very good and very fun lunch at this upscale dim sum place, located inside the Metropolitan Hotel, and we ended our meal with these deep-fried, mochi-like dumplings, filled with a green tea paste. Adorably shaped, too, as I'm sure you'll agree. They tasted like Japanese wagashi, only deep-fried, and the interesting plating touch — that sprig of curly parsley, those loose strands of grated carrot — makes me laugh in retrospect.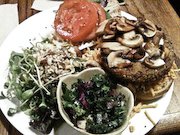 ~ Excellent vegan food at Fresh. One of the things I miss the most in Paris is honest, tasty, wowing vegetarian food. We do have a few vegetarian restaurants, but the good ones are few and far between, and none of them feel quite so exciting and truly restaurant-like as a place like Real Food Daily in L.A. or Fresh in T.O.
Tipped off by a few of you, I had dinner there one night and had the mushroom burger, which comes on a homemade whole wheat bun, with a kale slaw (yay! kale!) and an eat-your-greens salad full of wonderful green things.
It felt like such a treat, and there were so many more things I wanted to try on the menu, that I went back for lunch another day, instead of trying a new restaurant like any self-respecting food explorer would. (Sorry. Couldn't help it.)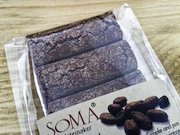 ~ Old-school chocolate from Soma. The purpose of my trek out to the Distillery District was to visit this bean-to-bar chocolate maker, which you had so warmly recommended to me. There were very many things I was curious to try, but I picked up one of the micro-lot chuao bars, and some of their intriguing "old-school chocolate," both of which are made without soy lecithin (unlike all of Soma's other products, regrettably).
That old-school chocolate is simply made of partially ground cacao nibs from Madagascar, and whole crystals of organic cane sugar. It has a uniquely coarse texture — coarser even than the Taza stone-ground chocolate I also love — that is crunchy and crumbly like a cookie, and is entirely irresistible. The gods of chocolate whispered in my ear that I would do well to sample it on the spot, which gave me a chance to get two more when I realized how good it was.