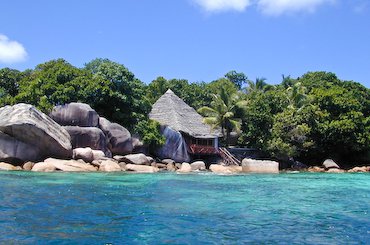 Many thanks to those of you who participated in the Desert Island Dishes contest! It was a treat to read through your entries.
It was hard to pick just three, but it had to be done, and Thomas Blythe and I narrowed it down to the following, which showed inventiveness and common sense, and just plain made us hungry. Their authors will receive a Desert Island Dishes cookbook and a Maldon seasoning box.
Amy:
"Dumplings. Not only will dumplings keep my belly full, I can pack them with veggies for vitamins and flavor. Dumplings also serve as medicine for the heart, keeping me connected to home and reminding me that I have a family that loves me. The recipe I'll make is for ground chicken dumplings with chives, carrots, and celery with a good glug of sesame oil.
The tools I'll need are a slender rolling pin for making dumpling skins, a wooden cutting board for chopping the vegetables, a meat cleaver for making ground chicken by hand, a pot for boiling the dumplings, and a strainer for lifting them out.
Oh, and if possible, a pair of wooden chopsticks would be my treasure on the island."
Esme:
"Whenever I make pizza dough, my basic recipe yields enough dough for 4 pizzas, each pizza serving 2 to 4 people, depending on how hungry they are. I divide up the dough and store it refrigerated and make pizza each night until it's used up.
I always begin the cycle believing that I'll grow tired of pizza, but each time I take that first bite, my husband beats me to the punch and says, "You can make this for dinner every night and I'd be a happy man".
The equipment needed is basic for life on a desert island: a bowl to make the dough in, a wood-fire, with smooth rocks laid over the hot coals on which the pizza can cook, and a pizza peel (to assemble the ingredients on top of the dough and move it to the hot rocks to cook).
The ingredients for my pizza (in addition to a mix of 00, semolina and all-purpose flours, yeast, olive oil, salt and a touch of honey for the dough) include a basic tomato sauce (made with San Marzano tomatoes, basil, garlic and salt) smeared over the dough, torn fresh basil sprinkled on top of the sauce, freshly shredded mozzarella cheese, grated provolone, freshly grated Parmigiano-Reggiano or Pecorino-Romano, thin slices of prosciutto placed across the top, and a fresh raw egg cracked and opened on the center of the pizza once the pizza has been placed on the hot rocks. Take care not to break the yolk!
When the white of the egg is set (the yolk will still be runny), the cheese will be melted, the dough crusty — the pizza is ready to eat.
I can eat this for breakfast, lunch, dinner, anytime and any day, everyday. It is that good."
Cassandra:
"Grilled Pineapple with Dark Chocolate (70% or higher) and a little sprinkling of Maldon; all you need is a knife, a metal skewer and something to start a fire.
In the absence of fire, Italian plums macerated with honey, sprinkled with Maldon also works beautifully.
Can't resist turning the desert island into a dessert island!"
Congratulations to all three! You can follow all things Desert Island Dishes on Maldon's twitter, with new contests every Wednesday.