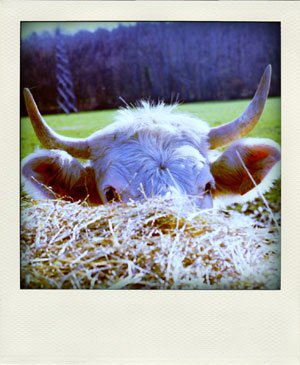 Photography by Gimli.
This is part of a series on French idiomatic expressions that relate to the culinary world. Read the introductory Edible Idiom post, and browse the list of French idioms featured so far.
This week's idiom is, "Aller à quelqu'un comme un tablier à une vache."
Literally translated as, "suiting someone like an apron suits a cow," it is used to express that something, usually an outfit or a piece of clothing, is unbecoming, or even ridiculous on someone.
Example: "J'ai commandé une robe à sequins sur Internet, mais elle m'allait vraiment comme un tablier à une vache, alors je l'ai renvoyée." "I ordered a sequined dress online, but it really suited me like an apron suits a cow, so I returned it."
Listen to the idiom and example read aloud:

(If no player appears, here's a link to the audio file.)
It is a colloquial expression that is, as you might infer from the bovine simile, self-deprecatingly humorous if you're referring to yourself, and somewhat unkind if you're referring to someone else. It can also imply that the person has tried to dress with elegance and sophistication, but doesn't have the class or figure to pull it off.
Probably because the cow is female, it is my impression that this one is chiefly applied to women. If you're looking for a more masculine equivalent, also concerning an edible animal, I can suggest "ça lui va comme des guêtres à un lapin," it suits him like gaiters suit a rabbit.