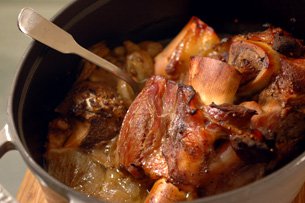 [Spoon-Tender Braised Veal Shank]
May I introduce to you my new favorite dinner party recipe, a recipe of the sort hosts and hostesses ardently wish for, a recipe that requires minimal effort and produces spectacular results?
Yes, I thought that might interest you.
The recipe in question is a recipe for veal shank that one braises for three to four hours in sweet white wine (vin blanc moelleux), surrounded by a benevolent court of onions and/or shallots, until the sauce has turned to a simmering amber, and the meat is so mellow and succulent it can be served and eaten with a spoon — hence the name.
You may recall the veal shank from osso buco recipes, where it is sliced into rounds: it is a cut taken from the back leg of the animal, it includes lobes of lean and gelatinous meat as well as a big fat central bone filled with pulpy marrow, and these features make it an admirable candidate for slow cooking methods.
The seeds of this particular recipe were first planted in my mind during a conversation with the wonderful Meredith, who works in the kitchen of the restaurant Les Ormes in the 7th, a conversation during which she spoke highly of her chef's signature jarret de veau à la cuiller. I have yet to taste Stéphane Molé's version and I was too shy to ring Meredith and ask if she would walk me through his method, so I just did a bit of online research instead.
Among the great many recipes that turned up, the one that inspired me the most was Tarzile's, which she herself had gotten from a Quebec cooking show. What immediately drew me to this recipe, beyond Tarzile's lively prose, was that it required very few ingredients — meat, shallots, wine, spices — and even fewer steps — salt the meat, peel the onions, slip into the oven, et voilà!
I have made this twice in ten days — something I seldom, if ever do — and served it to two different panels of diners. Both times the dish was lauded in such a way that I felt compelled to reveal how straightforward and easy the recipe was — unlike magicians, I take pleasure in sharing my sleights of hand — and both times I had my tasters shake their head in wonder as they took mental or, in some cases, written notes.
At Les Ormes, the jarret is served with homemade potato gnocchi, and fresh pasta would be wonderful, too, but I chose to serve mine with a mix of carrots and Jerusalem artichokes the first time, and with mashed celeriac (boil it in salted water and mash it with a little crème fraîche and lots of pepper) the second time. Whatever side you choose, it should be something that will take kindly to a liberal dousing of the thickened, caramelized juices.
The original recipe called for Vin de Muscat or Vin de Samos; I used a bottle of late-harvest Tariquet, a Gascony wine of which I am very fond. As for the drinking wine pairing, my favorite caviste could not have made a more spot-on recommendation than a red 2004 Sancerre from the Domaine des Caves du Prieuré.
Jarret de Veau Braisé à la Cuiller
1 veal shank, bone in, at least 1.5 kg (3 1/3 pounds) — it is safest to order it from your butcher's as it is not a commonly requested cut
2 tablespoons coarse salt
1 kg (a little over 2 pounds) sweet onions (I used oignons doux des Cévennes), peeled and halved — substitute shallots, simply peeled
1 1/2 teaspoons coriander seeds
1 1/2 teaspoons dried thyme (or 3 sprigs fresh thyme)
3 cloves
Salt, freshly ground pepper
Olive oil
Half a bottle (1 1/2 cups) sweet (but not cloying) white wine, such as a late-harvest Tariquet, a Muscat, a Jurançon…
Serves 4 to 5.
Set the veal shank in a glass or ceramic baking dish, rub with the coarse salt, cover with plastic wrap, and let stand at room temperature for an hour.
Preheat the oven to 160°C (320°F). Put the onions in a large (about 7 liters or quarts) ovenproof pot with a lid (ideally, a cast-iron cocotte). Sprinkle with coriander, thyme, cloves, salt, and pepper. Drizzle with olive oil and toss to coat.
Rinse the meat well under cold water and shake dry gently. Nestle amidst the onions, pour in the wine, cover, and slip into the oven.
Bake for 3 to 4 hours, flipping the shank halfway through, until the meat is caramelized and so soft it falls off the bones, and until the sauce is thick, and syrupy. Serve with fresh pasta, gnocchi, mashed celeriac, sautéed root vegetables…