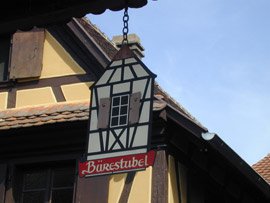 Oh what a wonderful feast of a lunch we had yesterday!
Maxence, our friend Baptiste and I drove to Strasbourg for the day, and decided to have lunch at Bürestubel, a small Alsacian inn recommended by the GaultMillau guidebook. It is located in Pfulgriesheim, a village just outside of Strasbourg, in a beautifully renovated farm building. The weather was magnificent and we sat at a table in the cool shade of the semi-covered little courtyard.
We decided to go for the 23-euro menu, a most excellent value, and chose to drink with that a bottle of 2001 Pinot Noir Vieilles Vignes, from the Théo Cattin vineyard. Served cool, it was very pleasantly fresh and light — both in color and taste — and a wonderful complement to the dishes we were about to enjoy.
As an opener, they brought us a small ramequin filled with a clear beef broth in which a tiny little bread dumpling was floating. I then had the Salade Tiède de Choucroute Nouvelle aux Foies de Volaille, a warm sauerkraut salad topped with finely diced shallots and surrounded by sauteed chicken livers. This was excellent, the sauerkraut mild, almost sweet and with a great texture, the chicken livers tender, tasty, and very fresh. Maxence (I mean, how could he possibly resist) had Munster Frit, a deliciously crusty piece of fried munster cheese, and Baptiste had the Salade de Magrets d'Oie, a salad with slices of goose magret.
For the main course, I had the Jarret Rôti, jarret being a section of the pork's leg. The meat had been slow-cooked to incredible tenderness, bone-in and skin-on, preserving the wonderful taste and moistness. It was served in a wine sauce, with a small mound of stewed vegetables and three herbed potato dumplings. Maxence and Baptiste both chose the Poussin Rôti, young roasted chickens served whole with roasted vegetables. Oh, and we all shared a communal dish filled with fabulous sauteed potatoes, tender and golden with crunchy bits.
Dessert for me was the Tarte aux Quetsches (a plum tart), while Baptiste had the Tarte aux Pommes Tièdes (warm apple tart) and Maxence the Flan au Caramel (caramel flan), but those were, unfortunately, forgettable (the pie crust cardboardy and the fruit not quite ripe enough) — especially after the impressive first and main courses.
This was one of the most wonderful feasts I've ever had, in that beautiful décor and in such good company. It left us all unbelievably full, but very happy to have sampled some of that fabulous, if very rich, Alsacian cuisine.
Bürestubel
8 rue de Lampertheim
67370 Pfulgriesheim
03 88 20 01 92