I have been wanting to share this recipe for ramen-style pork belly with you for, oh, two years and a half, ever since I made it for the first time, using Camille Oger's excellent directions in her post Easy braised pork and quick rāmen.
Camille Oger is a French food writer and journalist who travels extensively to visit growers and producers and chefs. She has spent a lot of time in Asia, and in Japan in particular. Her blog posts are extraordinarily well researched* and her photos are an armchair traveler's dream come true.
• Related: Highlights from my trip to Japan.
My personal favorite is probably her post on hoshigaki (dried persimmons) or maybe the one where she spent the day at a bento-ya, a kitchen where they prepare the typical Japanese boxed lunch.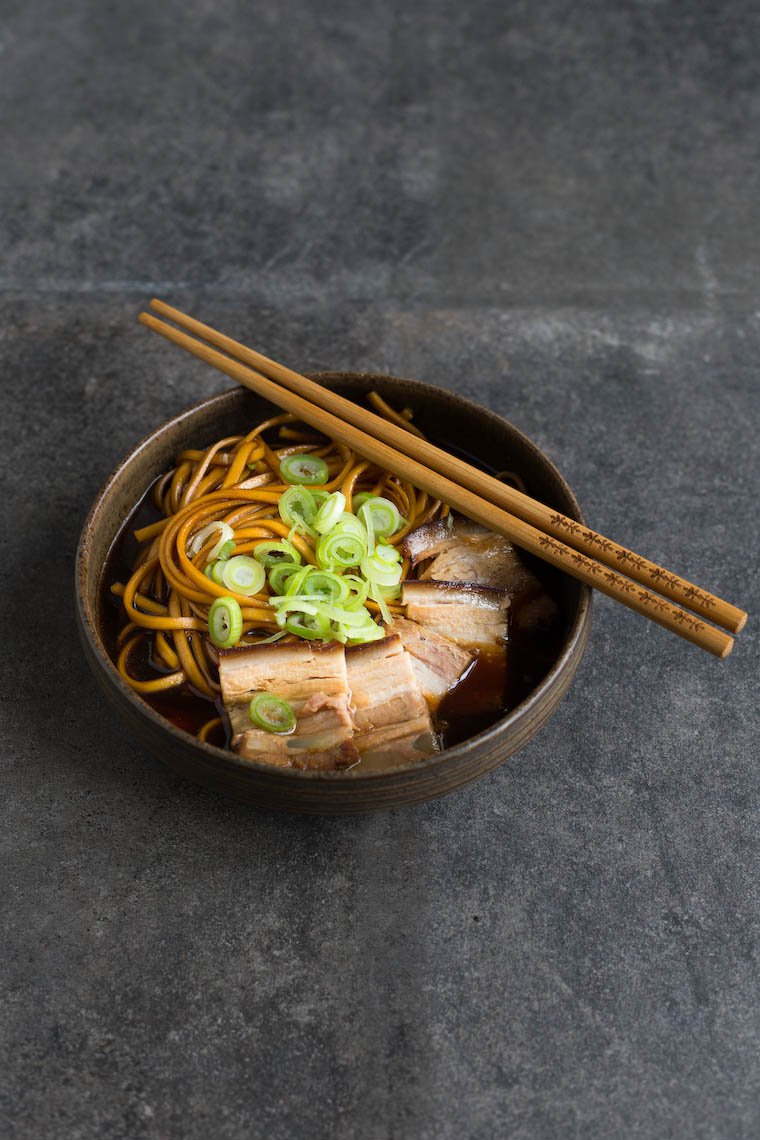 In her post on braised pork, she gives a shortcut recipe for chāshu, the braised pork belly that is typically added in thin slices to a bowl of rāmen, the iconic Japanese noodle soup I love so much.
What I first loved about her recipe is that it is very approachable — a short list of ingredients, a free pass on rolling up the pork belly — and she explained that she made it in her rice cooker for a low and slow, energy-efficient mode of cooking. The food geek in me thought that was pretty cool, and I soon started making it that way with great success.
And then I got an Instant Pot — the popular all-in-one appliance that works as a slow-cooker, a pressure cooker, a sauté pot, a rice cooker, a steamer, a yogurt maker, and a keep-warm pot — and it turned out to be an even better choice of vessel to cook my ramen-style pork belly.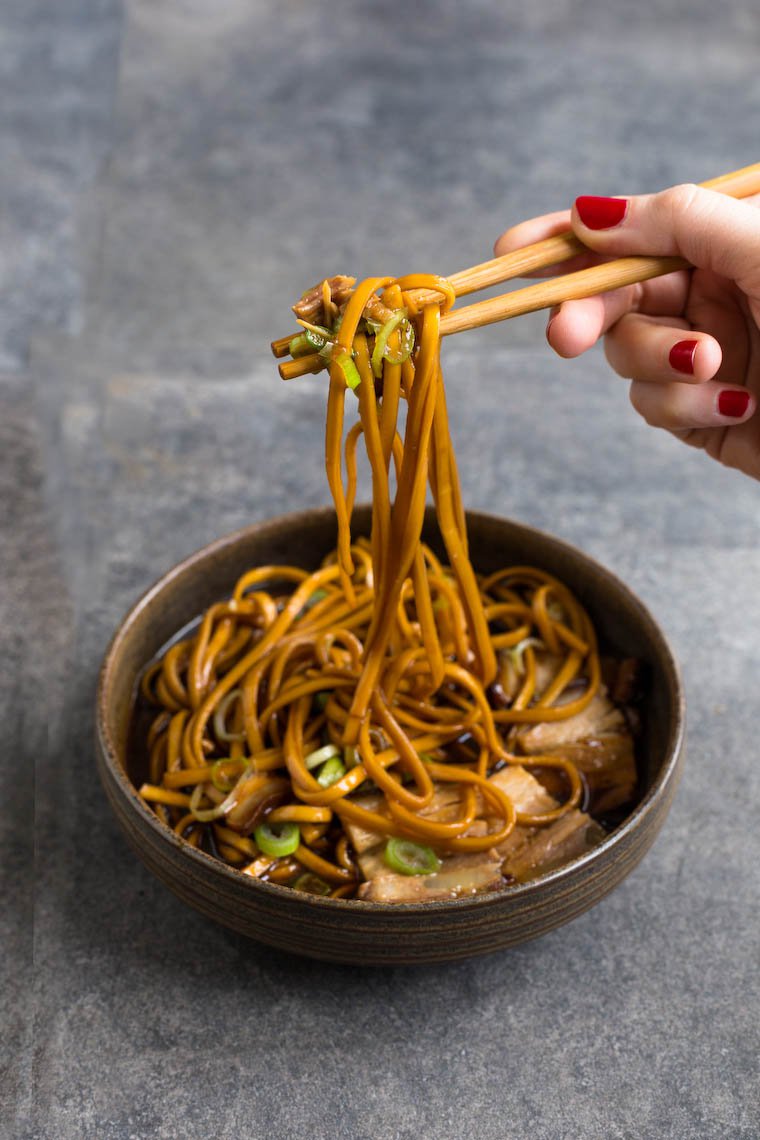 It is the most gratifying thing in the world: you get a piece of pork belly from a good butcher shop (the kind that sells meat from sustainably raised animals), you rub the meat with salt, brown it on all sides, and you put it into the Instant Pot — or other slow cooker — with all of the broth ingredients. You cover with water, set the cooker on low, and forget about it for 8 hours, unless you get a chance to flip the meat and admire it every two hours or so.
After that time, the meat is incredibly tender, and you let it rest and firm up overnight in the fridge, along with the strained broth.
The next day, this very strained broth serves as the cooking liquid to cook some udon noodles — the fat and chewy kind — that you plop into bowls, with thin slices of the pork, and enough broth to warm you up from head to toe.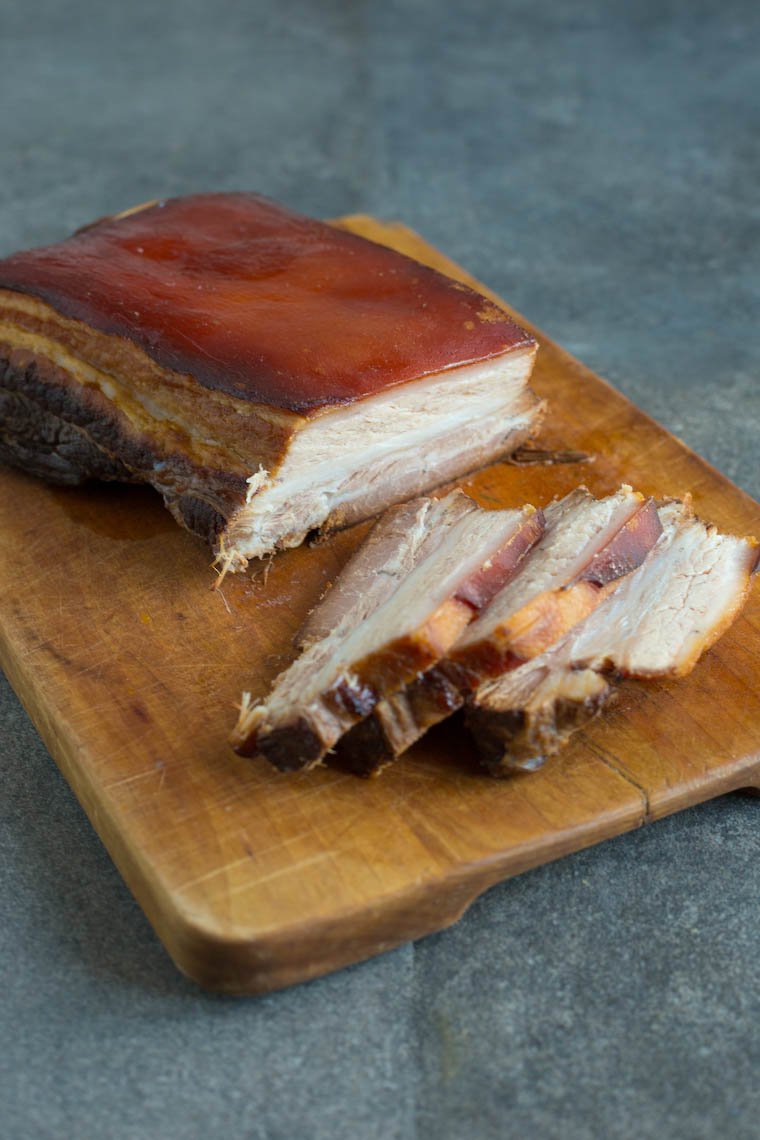 Now, the noodle soup you get then isn't proper ramen as the broth-making process is normally more involved than that, but it certainly does the job of filling you up and making you smile.
This is a dish with a little bit of planning involved, since you have to cook the meat the day before. But there is very little active time, and the final preparation is so short — 15 minutes tops — that you could easily pull it off for a weeknight dinner with friends, still spending most of your time enjoying their presence and their best jokes.
It is such an easy win that you will hesitate to tell said dinner guests, lest their bubble be burst, but they will be very thankful when you explain what little effort the recipe actually requires, so they can start plotting to make it themselves.

Have you tried this? Share your pics on Instagram!
Please tag your pictures with #cnzrecipes. I'll share my favorites!
Instant Pot Ramen-Style Pork Belly Recipe
Ingredients
1.2 kilos (2 1/2 pounds) skin-on pork belly
2 teaspoons fine sea salt
1 medium yellow onion, quartered
4 cloves garlic, peeled
1 piece fresh ginger, about 3 cm (1 inch) in length, roughly chopped
120 ml (1/2 cup) soy sauce or tamari
180 ml (2/3 cup) sake (Japanese rice wine, available from Asian food stores; substitute Chinese rice wine or a dry white wine)
180 ml (2/3 cup) mirin (sweet Japanese rice wine, available from Asian food stores; substitute dry white wine plus 1 teaspoon sugar)
3 tablespoons raw sugar
480 grams (1 pounds) uncooked udon noodles
2 spring onions
Instructions
Cook the pork the day before.
Rub the pork belly on all sides with the salt.
Set your Instant Pot or other slow cooker to sauté mode (if that's not an option on your model, place a dry skillet over medium-high heat), add the pork belly skin side down, and cook for 5 minutes on each side, until browned.
Flip the meat back to skin side down in the Instant Pot or slow cooker. Add the quartered onion, ginger, whole cloves garlic, soy sauce, sake, mirin, and sugar.
Pour water in to cover the ingredients by 2-3 cm (1 inch). Place the lid on, turn the slow cooker on using the "low" setting, and cook for 8 hours. If you're available to do so, flip the meat every 2 hours or so.
After 8 hours, remove the meat from the pot and transfer to a container with a lid. Pull out the bones, if any, and discard. Allow to cool on the counter then cover and refrigerate until the next day.
Strain the cooking broth, discarding the solids aside. Allow to cool on the counter then cover and refrigerate until the next day.
The next day, bring the broth to a simmer in a large saucepan. Add the noodles and cook according to package instructions.
In the meantime, cut the pork into thin slices, removing any piece of cartilage.
Mince the spring onions finely.
When the noodles are cooked through, lift them from the broth with tongs and divide among 6 bowls. Add pork slices on top, ladle the broth into the bowl, sprinkle with the spring onions, and serve with chopsticks (and bibs, as needed).
Notes
Chashu pork is great with rice and broccoli also; I only use enough of the cooking broth to moisten the meat, so as not to drown the rice.
If you don't have a slow cooker or Instant Pot, you can put the ingredients in a cast iron pot and cook in a 120°C (250°F) oven for 8 hours, flipping the meat every hour or so.
I have tried this with other, less fatty cuts of pork, such as a roast, and it is delicious as well.
https://cnz.to/recipes/meat-charcuterie/instant-pot-ramen-style-pork-belly-recipe/
Unless otherwise noted, all recipes are copyright Clotilde Dusoulier.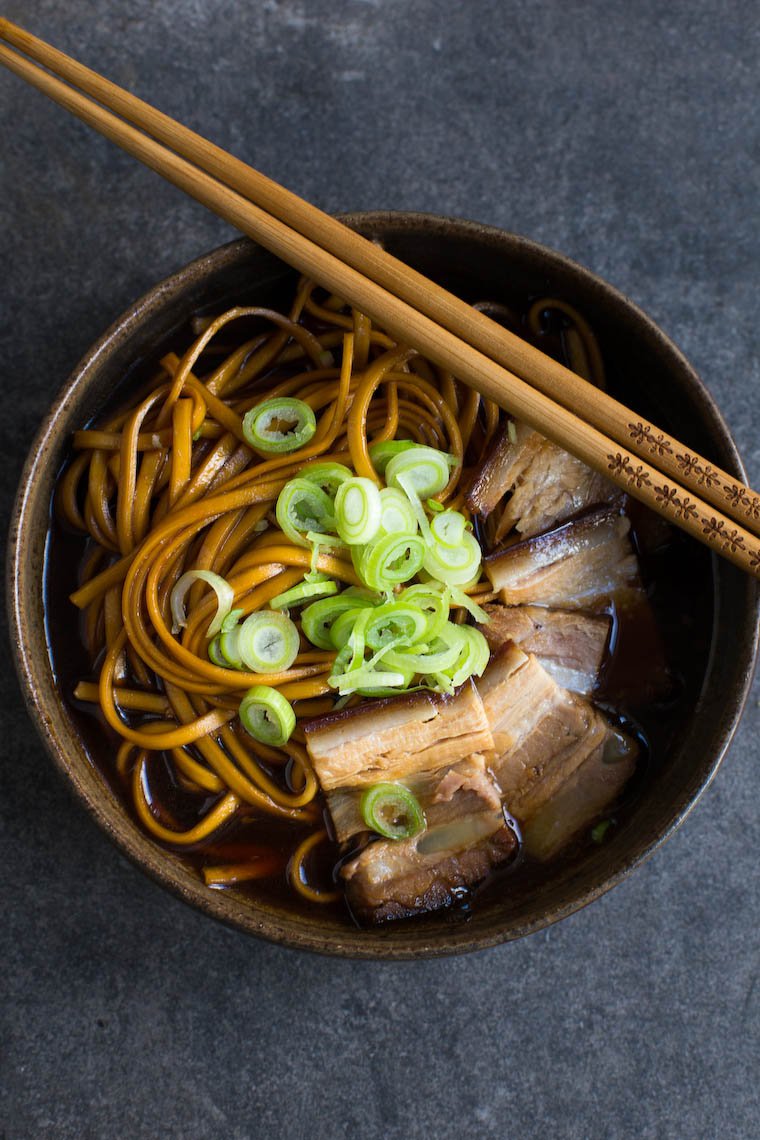 Photography by Céline de Cérou.