Gremolata is an Italian condiment I adore — a simple, and quickly assembled mix of flat-leaf parsley, lemon zest, and garlic, chopped finely.
It is most traditionally associated with osso buco, and indeed it works wonders (wonders, I tell you!) on any slow-roasted or braised meat dish, sprinkled on just before serving. It tastes fresh and clean, and cuts right through the richness of a stew, brightening the overall flavors by several notches.
But it would be a pity to restrict gremolata to this classic use. You can also:
– stuff it underneath the skin of chicken before roasting (I detail this technique in my post on salt-crusted chicken),
– sprinkle it over roasted eggplant, mushrooms, carrots, or cauliflower,
– use it to garnish soups, especially winter squash soups,
– add it to salads (especially lentil salads) and sandwiches,
– toss it with pasta, white beans, or small waxy potatoes,
– add breadcrumbs and a little bit of oil to form a paste, and spread on fish fillets before baking,
– use it to season steamed mussels or grilled sardines,
– fold it into ricotta or fresh goat cheese to top crostini…
The list goes on and on, so you would do well to mix a big batch whenever you have the ingredients on hand, and keep it in the fridge for a couple of days to add to your cooking and spark new ideas.
And just as the uses are multiple, so too are the possible variations on this glorious trinity: you can use parsley in combination with another fresh herb (I do recommend keeping at least a portion of parsley to retain that flavor thumbprint), you can mix and match citrus zests (orange is also a classic, but grapefruit or bergamot would be inspired twists), and you can add a fillet of anchovy or a few black olives to replace the salt.
I myself like to add roasted hazelnuts to my gremolata for a nutty note, an idea that comes from genius cook Sonia Ezgulian by way of the gremolata bowls she placed on every table when she was a guest chef at Café Pleyel.
And part of my pleasure in making gremolata is that it gives me a chance to use the very nifty hand-cranked mini-chopper I got from Tupperware years ago*. It works a bit like an old-school salad spinner, with a handle and a cord that sets in motion a rotating set of blades (see below). I like the retro-ness of it, and find it is just the thing to produce a gremolata that's chopped tiny, but not completely ground. Also, handy in the event of a blackout!
Join the conversation!
Do you make gremolata? What's your version like, and what do you use it on?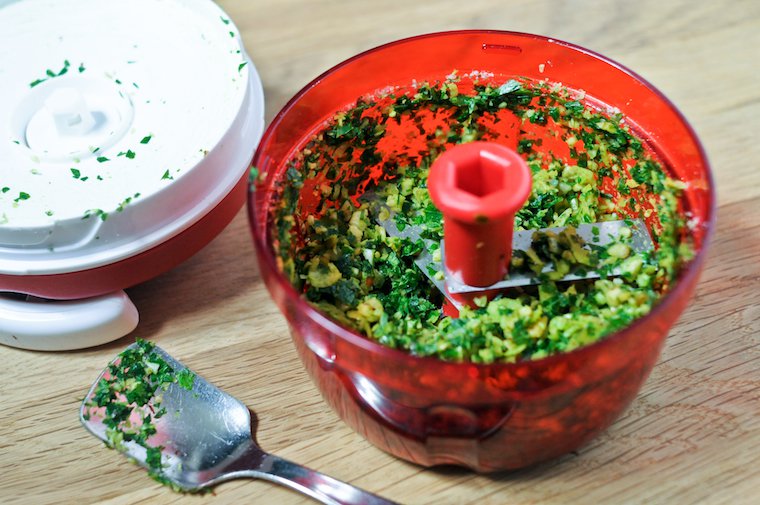 *Disclosure: I received this mini chopper for free from the press services of Tupperware France a few years ago, with no obligation to write about it, and no compensation if I ever decided to. All opinions expressed are my own.

Have you tried this? Share your pics on Instagram!
Please tag your pictures with #cnzrecipes. I'll share my favorites!
Hazelnut Gremolata Recipe
Ingredients
the leaves from 1 small bunch flat-leaf parsley, about 15 grams or 1 cup
the zest of 1 large organic lemon, peeled into strips with a vegetable peeler
1 large clove garlic
about 20 hazelnuts, optionally roasted
1/4 teaspoon fine sea salt
freshly ground black pepper
Instructions
Place all the ingredients in the bowl of a food processor and process in short pulses until finely chopped, but not puréed: you should still be able to make out the individual flecks of citrus zest and parsley. Alternatively, you can chop the ingredients by hand.
Taste and adjust the seasoning. Cover and refrigerate until ready to serve, up to 2 days.
https://cnz.to/recipes/sauces-condiments/hazelnut-gremolata-recipe/
Unless otherwise noted, all recipes are copyright Clotilde Dusoulier.