This is a recipe I got from David Tanis' A Platter of Figs and Other Recipes.
I realize that naming this cookbook my favorite for 2008 and then showcasing its recipe for hard-boiled eggs sends a curious message, yet it illustrates exactly what I look for in a book: not just engaging stories, understated pictures, and seasonally sound menus — all features that ?tag=chocolzucchi-20″>Tanis' book can brag about — but also things to learn, understand, and remember long after the book has been shut.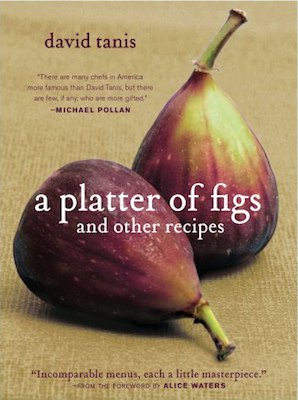 This is why I was bound to fall for a book that draws its title from that very premise: you need know-how, rather than a recipe, to serve a good platter of figs. A book that not only gives you a recipe for Jellied Chicken Terrine (three cheers for aspic!), but also devotes two pages to Grilled Chicken Breasts and includes a sub-recipe for the Soft-Center Hard-Cooked Eggs that you are to place, halved or quartered, around the inverted and unmolded terrine.
If, like me, you've long been a card-carrying member of the Hard-Boiled Eggs Loathing Society, prepare to have your mind changed. The proper way of making them, as outlined below, will not produce the dreaded dandruffy yolk, sapless and tinged with grey, but one that's creamy and glowing, nested in a springy, just-set white.
There's not much to it, really, yet it is one of those basic skills that everyone assumes you possess, when I myself can't make an oeuf à la coque without calling Maxence to double-check the cooking time, so it is nice when someone takes the time to hold your hand through the process.
If, like me, you've long been a card-carrying member of the Hard-Boiled Eggs Loathing Society, prepare to have your mind changed.
UPDATE: David Tanis' method consisted in lowering the eggs in boiling water and cooking them for 8 to 9 minutes. I have since changed my way of making hard-boiled eggs, and now prefer to put the eggs in when the water is cold, bring to a boil, and let rest off the heat for 10 minutes. I've updated the recipe below to reflect that.
And then of course you're free to do whatever you please with those eggs. I am not sure if or when I will make the terrine — I have my eye on the Fava Bean Salad with Mountain Ham and Mint and the Fish Soup with Mussels and Chorizo first — but these perfect eggs have already become regular adornments to my lunch salads, the grated carrot and avocado salad, the red quinoa salad, and the grated carrot and beet salad. Surely you've met?

Have you tried this? Share your pics on Instagram!
Please tag your pictures with #cnzrecipes. I'll share my favorites!
Perfect Hard-Boiled Eggs Recipe
Ingredients
Instructions
Place the eggs in a medium pan and cover with cold water. Bring to a rolling boil, covered, over medium-high heat. Remove from the heat and set aside, covered, for 10 minutes.
While the eggs are resting, fill a medium bowl with cold water and add a full tray of ice cubes (remember to refill the ice cube tray if you prefer to avoid this).
After 10 minutes, lift the eggs out of the water with a slotted spoon and put them in the bowl of ice water; this will halt the cooking.
When the eggs are cold -- this will take just a couple of minutes -- tap them gently on the counter to crack their shell all around, and return to the bowl a few more minutes: the water will infiltrate the eggs beneath the shell and make them easier to peel. (Also, when peeling the eggs, notice that there is a thin skin between the white and the shell; once found and ruptured, that skin provides good leverage to peel off the shell.)
Notes
If you're not using all six eggs right away, don't crack or peel the ones you're saving. Just write a capital "D" (for dur, hard) on each shell with a pencil, to make sure no one mistakes them for fresh; this is how my mother does it and I know no other way. Keep the eggs in the fridge and eat within a day or two.
https://cnz.to/recipes/eggs/perfect-hard-boiled-eggs-recipe/
Unless otherwise noted, all recipes are copyright Clotilde Dusoulier.