The problem with working from home is that the kitchen is a powerful distraction.
Oftentimes I'll be typing away, working on an assignment, fielding email, or straightening up notes from an interview or field trip, and a wonderfully seductive thought will pop into my head.
"Should I start slicing zucchini for roasting tonight?"
Or: "How about I spatchcock a chicken and try a new marinade for it?"
Or maybe: "Will the apples that the neighbor's daughter brought from her garden keep for much longer, or should I hurry up and make Gâteau de Mamy?"
And also: "Boy, do I wish I had some raw chocolate truffles to nibble on!"
It's all I can do not to jump up from my chair and dash into the kitchen; I call it culinary procrastination.
Channel your inner kindergartener and roll little balls of chocolate dough between your palms. The result is absolutely delicious, with a vibrant chocolate flavor and a rich, lightly nubby texture from the nuts.
Regarding the truffles, the idea came about as I was writing a story on raw chocolate for my column in ELLE à table. "Raw" chocolate is chocolate that is processed at low enough a temperature to preserve a maximum of antioxydants and minerals. The concept is disputed, especially in the absence of any certification system — I recommend you read Stephanie Zonis' in-depth article on the subject. But since raw cacao powder is easily available, and can be used to make all sorts of interesting, raw-inspired preparations with alternative sweeteners and high flavor, I'm totally on board.
As one might expect, it's hard to research the topic without wanting to get all practical, and within minutes I had abandoned my computer and was happily whizzing and shaping and dusting these two-bite treats.
The good news is (for my editor at least) it didn't keep me away from my desk for very long, as this is a super easy and quick process. First, you'll grind some nuts. I used hazelnuts and sunflower seeds here, but you could substitute whichever nuts you prefer (think almonds, walnuts, macadamia, pecans…), and I like a combo. Then, you'll process some pitted dates with salt, spices (I use the cinnamon I love and/or freshly ground cardamom), and raw cocoa powder. Finally, you'll pour in some gently melted coconut oil and honey (rice syrup for you vegans) to bind everything together.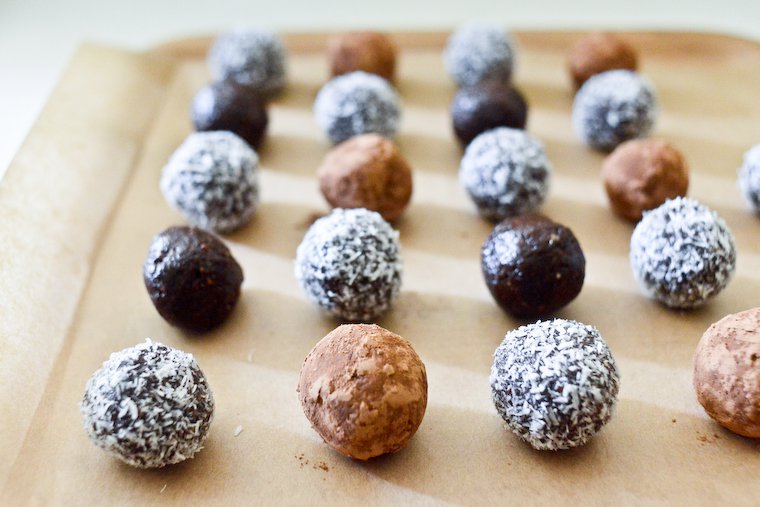 All that's left to do then is to channel your inner kindergartener and roll little balls of dough between your palms, then toss in a bowl of grated coconut or cocoa powder to coat. The result is pretty and appetizing, and more important, it is absolutely delicious, with a vibrant chocolate flavor and a rich, lightly nubby texture from the nuts.
Such a welcome pick-me-up in the middle of a work project, and the purrrfect treat to savor while watching your favorite series at night when the kids are in bed.
I want to know!
Do you eat raw chocolate yourself, and what's your favorite brand? Have you ever made your own raw chocolate confections? Does the kitchen ever draw you away from what you should really be doing, you culinary procrastinator you?
I hope you try making these truffles, and when you do, please share the pictures on social media using the hashtag #cnz.
[sc:cinnamon_note]

Have you tried this? Share your pics on Instagram!
Please tag your pictures with #cnzrecipes. I'll share my favorites!
Raw Chocolate Hazelnut Truffles Recipe
Ingredients
60 grams (1/2 cup) raw hazelnuts
60 grams (scant 1/2 cup) raw sunflower seeds
100 grams (3 1/2 ounces) pitted Medjool dates (or other soft dates), about 5
1/4 teaspoon fine sea salt
1/2 teaspoon cinnamon [sc:cinnamon_link]
80 grams (2/3 cup) raw cocoa powder + 2 tablespoons for coating
2 tablespoons coconut oil
2 level tablespoons honey (or rice syrup for vegans)
2 tablespoons unsweetened grated coconut
Instructions
In the bowl of a mixer or blender, process the hazelnuts and sunflower seeds in short pulses (this is to avoid overheating) until you get the consistency of breadcrumbs.

Pour into a mixing bowl.
In the bowl of the mixer, process the dates with the salt, cinnamon, and cocoa. Add to the bowl and mix well.

In a small saucepan, melt together the coconut oil and honey over gentle heat. Pour into the bowl and stir well with a fork or dough whisk until the dough comes together.

Roll the dough into balls, 2 to 3 cm (1 inch) in diameter, between the palms of your hands, and place them on a tray lined with parchment paper.

Put 2 tablespoons cocoa powder in a shallow bowl and roll a third of the truffles in it. Repeat with another third of the truffles and the grated coconut in a clean bowl, and leave the last third plain.

Allow to set in the refrigerator for 2 hours, then transfer to an airtight container and keep in the fridge. The truffles can be eaten straight from the fridge, or you can allow them to come to room temperature 1 hour before serving.
https://cnz.to/recipes/candy-mignardises/raw-chocolate-hazelnut-truffles-recipe/
Unless otherwise noted, all recipes are copyright Clotilde Dusoulier.