This is a good time of year to reflect upon one's blessings, and among the very many things I feel grateful for is the way this blog connects me with remarkable people whose path I might never have crossed otherwise.
Case in point: Colins Kawai, the marketing director of the University of Hawaii Press, but also an artisan chocolatier and the founder of Choco Le'a ("chocolate pleasures"), a small chocolate company based in Hawaii that he started to raise funds for charities and non-profits around the world.
I met Colins and his wife Joan when they visited Paris in November: Colins and I had exchanged a few emails, and he had told me about his company, which does mostly catering for weddings and other receptions, and about the truffles he makes for those events, garnished with such exotic flavors as lilikoi (passionfruit), haupia (coconut creme), or lychee liqueur.
We arranged to meet at the Salon du Chocolat, the Henri Le Roux stall serving as our rendezvous. We chatted for a little while, and Colins and Joan handed me a few boxes of their truffles, which they had, amazingly, hand-carried from Hawaii for me, along with a few other gifts, including the most adorable onigiri-pattern bib for Milan.
Maxence and I enjoyed the chocolates a great deal (read: we inhaled them), and the ones I was most taken with were the mochi truffles, which came in four flavors: plain, strawberry, honeydew (my favorite), and orange.
I adore mochi in all its forms, as evidenced by my posts on the strawberry daifuku mochi and the warabi mochi, but this was the first time I'd witnessed its encounter with chocolate. I have since researched the subject, and while I've found many instances of chocolate truffles wrapped in mochi — delicious too, I'm sure — I haven't found references to truffles with a piece of mochi inside.
Curious to know more about this novel treat, I asked Colins to answer a few questions.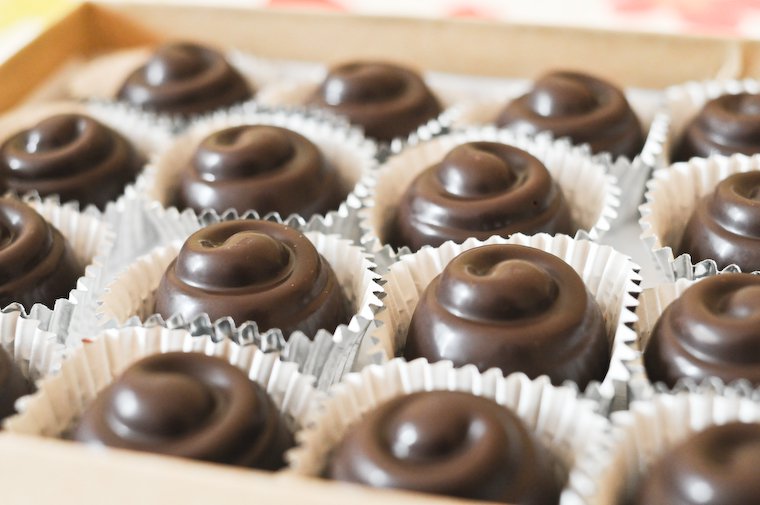 Can you tell me about your mochi truffles, and how you make them?

Like all moulded truffles, I create the outer shell first. I then add a piece of sweetened mochi called chi chi dango. [This video shows how to make it.] Unlike unsweetened mochi, chi chi dango will not quickly harden in the refrigerator. Chi chi dango will harden, too, but not when placed inside a truffle. The mochi truffles that I presented to you were frozen for one week. You can freeze this truffle for weeks, and when slowly defrosted, it will return to its original soft center. In addition to the sweetened mochi, I add a layer of dark chocolate ganache, then cap the bottoms with chocolate.

How did you get the idea to make mochi truffles?

When I started making chocolates almost ten years ago, I had never heard of mochi truffles. Someone that I know suggested that I make them. This was not an unusual suggestion, since we already have mochi-covered ice cream, and mochi-covered strawberries, but my favorite is peanut butter mochi. Someday, I'll need to make a peanut-butter mochi truffle.
Mochi is quite common in Hawai'i, so it is only natural to combine two great flavors and textures. However, the problem with mochi is its extremely short shelf life. It is best consumed fresh, and it must be consumed typically within a day or two after it has been made, or it will get moldy. If you refrigerate or freeze it, it will become hard as rock. Chi chi dango has a slightly longer shelf life of perhaps five days. When I make a mochi truffle, since it is refrigerated, the shelf life is seven days, or several weeks, if frozen.
We bestow a name and title to our truffles. We have Lady/Sir, Countess/Count, Princess/Prince. Our mochi truffle is called the Princess Stephanie, after Stephanie Chun, the person who suggested this unique flavor. The title of Princess/Prince is bestowed upon our most popular truffles. We could make this one flavor ALL day and sell all of it. It is that popular! But, if we made just one flavor, chocolate-making would become boring, n'est-ce pas? There is more to life for us than simply fame and fortune.

I know a little about mochi in the Japanese culture, but can you tell me about the cultural significance of mochi in Hawaii?

In Hawai'i, Japanese-Americans and Japanese nationals residing in Hawai'i welcome New Year's Day with a bowl of ozoni soup. Ozoni soup contains mochi. Buddhists will also place two to three pieces of mochi stacked with an orange on top, as a food offering to departed loved ones on New Year's Day. And, there is mochi available on both Girls' Day (March 3rd), and Boys' Day (May 5). I think that our rituals and traditions in Hawai'i are similar to those in Japan.

Is there anything else you'd like to say about your mochi truffles?

We like to support local businesses, so instead of making our own chi chi dango from scratch, we buy locally. So we're always in search of the best mochi that we can find. It's like searching for the best macaron or chocolate in Paris. People have their favorites, but with our mochi truffles, we are the only ones making this truffle in Hawai'i. Mochi is a flavor that most everyone in Hawai'i is familiar with, not just people of Japanese ethnicity. The pillowy soft texture of mochi goes very well with the creaminess of the dark chocolate ganache, an Asian-European fusion of flavors in perfect harmony with one another. It's almost zen-like, don't you think?