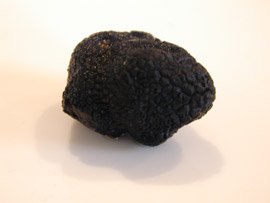 Last Saturday, while we waited for the balsamic vinegar tasting to begin, Maxence and I seized the opportunity to explore the covered part of the Marché d'Aligre, where the tasting took place. The stands (butchers, cheese stores, charcuteries, bakeries, produce stalls…) are more upscale there than in the open-air area, and the products tend to be pricier, but the displays are sure tempting.
We browsed around the alleys and bought a few things, excitedly composing the kind of picnic-style Sunday lunch we like so much : cold cuts, olives, dry sausages, tapenade or a spread of some sort, a generous selection of cheeses, as well as a nice salad and some good bread.
While at the cheese stand, Maxence exclaimed over a tray of really huge, stark white eggs. "Des oeufs d'oie", explained the cheese lady. Goose eggs? Our eyes opened even wider (those city kids!), and a string of questions were subsequently asked : how why when where and what with? We decided to get two : this would round up our Sunday lunch nicely. Spotting the motorcycle helmets we carried, the cheese lady made sure the eggs were wrapped up cosily.
It also seemed like the perfect occasion to use the black truffles we had bought last summer while on vacation in the Périgord.
Back home that evening, Maxence opened the jar, which contained our wealth : three truffles. We breathed in their smell, so uniquely earthy, and put the open jar with the goose eggs in a container for the night, to help the eggs pick up a truffle flavor.
The next day, Maxence soft-boiled the eggs (eight minutes, as per the lady's instructions), while I slivered one of the truffles thinly. When the eggs were cooked, we realized of course that our regular eggcups were too tiny, and Maxence was suddenly inspired to use espresso cups instead.
We buttered slices of toast, cut them in mouillettes (the lovely French word for the bread fingers you dip into an egg) and proceeded. The eggshell of goose eggs turned out to be much tougher than a chick's egg, and my usual technique of tapping all around the top with a knife then flip it open just would. not. work. I had to sort of hammer it open, and uncovered the white, which was strikingly opalescent. Apart from those initial observations, the experience was very similar to eating regular eggs, in terms of taste and texture. But one should not overlook the definite pleasure to be found in the scale of those eggs, and the special Alice in Wonderland feeling you get.
We alternated spoonfuls of goose egg, bites of toast, and slivers of truffle. I am in no way a truffle specialist, but the egg/bread/truffle trio is definitely a great way to appreciate the different tastes, and I find it just beautiful in its simplicity.