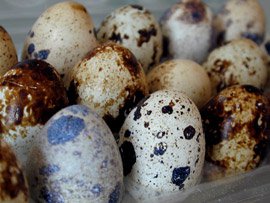 Quail eggs : one of nature's smallest wonders!
The beautiful thing with these teeny tiny eggs, is that they all look different, each of them with a unique half-inch of personality, random patterns of little smudges and freckles, some brown, some black, some blue.
You half expect them to crack open any minute, letting out a very small gawky dinosaur, or some other thumb-sized critter out of a fantasy.
Maxence bought a tray of them at our fantabulous and newly redecorated grocery store, where shiny bright aisles compete for your attention and unsuspected treasures of modern marketing await you at every turn.
He boiled them for four minutes, and we ate them still warm and soft inside, peeling them with the tips of our fingers, dabbing them into a little mushroom salt, and popping them into our mouths.
Quintessential egg pleasure in just one bite, perfect white-to-yolk ratio.
And just think : mini egg, sunny-side up! mini poached egg! mini oeuf à la coque! even better : mini oeuf cocotte! Oh, the possibilities!
[Related post : the opposite adventure in egg scale, the goose egg!]