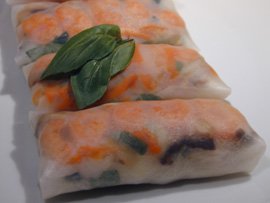 When Pim suggested we food bloggers try and raise some funds for the tsunami relief effort, her idea was that we would jointly create a twelve course menu of Southeast Asian inspiration, complete with recipes, drink pairings and translations. It is not my habit to let the big bad thnigs of the world take up too much space on C&Z (I think of it as a sheltered little place and I don't think anyone comes here to know about my political opinions), but this is a highly worthy cause and I loved Pim's idea.
In creating this Menu For Hope and posting it on our blogs today, we would like to invite all of our readers to donate something, however small, to the charity we have chosen to support: Unicef. The media will likely loose all interest in this catastrophe very soon, but of course (and you don't need me to tell you that) the people who have lost everything can still use our help.
The full menu (with links to all other recipes) can be found here.
I volunteered to create an appetizer, and promptly started to chip my nailpolish with worry. Although I enjoy Asian food very much when I eat out, I know very little about cooking it myself: I have just a tiny bit of humble experience with Japanese cooking, but none whatsoever when it comes to Southeast Asian gastronomy.
I thus make no claim as to the authenticity of my mini summer rolls — can I just call them fusion and run with it? But what I can certainly vouch for is their delicious taste and pretty presentation. Filled with aromatic components (mushrooms, coriander, basil, peanut, shrimp), they have a very clean, very fresh taste, beautifully complemented by the dipping sauce.
They were also a lot of fun to make, if a little tricky because of the rolling skills they required: interestingly enough, my first rolls were almost perfect, but after two or three I started thinking about the technique too much and I suddenly had much more trouble getting them to look right. So my advice to you is: tell that left brain to shut up while you roll!
They will make fabulous finger food (as generally observed, boys will cram them in their mouths in one swift bite, girls in two or three dainty ones), but since they are somewhat time-consuming to prepare, I would avoid making them for too big a party unless a) you're the fastest roll-roller in the universe or b) you can enroll fellow rollers to help you out. And of course, you could also roll them in larger rice-paper rounds (but that would take out the "mini" in "mini summer rolls").

As for your donation, click on the button above to get to the Just Giving website that was set up for the occasion (Just Giving is a trusted service for online fund-raising). And remember, give as little or as much as you can afford, every coin helps. Thank you!
Mini Summer Rolls with Thai Dipping Sauce
– 24 rice-paper rounds or rounded triangles, roughly 20 cm (8") across (make sure you have more in case one or two tears)
– 100 g (3 oz) rice vermicelli noodles
– 2 Tbsp rice vinegar
– 1 C shiitake mushrooms, chopped
– 1 carrot, peeled and grated
– 1 cucumber, deseeded and grated
– 1 zucchini, grated
– salt, vegetable oil, peanut oil
– two handfuls of fresh coriander leaves, chopped
– two handfuls of fresh basil leaves, chopped
– 100 g (3 oz) shrimp, cooked
– 1/3 C peanuts, finely chopped
Thai dipping sauce:
– 3 Tbsp Thai fish sauce (nam pla)
– 3 Tbsp lime juice
– 1 Tbsp water
– 1 tsp chili sauce
(Serves four; 6 mini-rolls per guest.)
Heat a little vegetable oil and peanut oil In a skillet. Add the vegetables and mushrooms, and cook over medium heat until softened but not completely limp. Set aside. Cook the vermicelli according to package instructions. Drain, and toss with the rice vinegar and a little salt.
Put a double layer of paper towel on your work surface, and set all the ingredients (shrimp, vegetable mixture, peanuts, cooked vermicelli, herbs) around you within arm's reach. Handling them carefully, soak the rice paper rounds two at a time in a wide and shallow bowl of cold water, until completely softened.
Transfer a rice paper round onto the paper towels. Place a few shrimps in a row in the middle, cover with a little of the vegetable mixture, a little peanut, top with vermicelli, then herbs, and roll into a tight log (fold the sides over first, then one flap, then roll unto itself). The first one or two will be awkward, but you'll soon get the hang of it. Don't try to put too much stuffing inside the rolls, it only makes them harder to roll and more prone to tearing. Repeat with the rest of the ingredients.
Whisk together the sauce ingredients, pour into four small cups, and serve with the rolls.