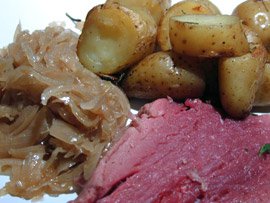 [Roast Beef, Shallot Compote, Rosemary Fingerling Potatoes]
While planning for our Saturday night dinner, I conducted a little research to find out what was best to eat with Baptiste's bottle of St Julien. My sources were comfortingly unanimous. Red meat, roasted, was the card to play. I chose to roast a filet de boeuf, a very tender beef cut, and serve it with a shallot compote and roasted rosemary potatoes. The meat was promptly ordered at our favorite butcher's, La Boucherie des Gourmets in the rue Lepic.
As you will infer from the many comments in the roast recipe, I am really not a meat specialist. Steaks, ribs, chops and other single-serving cuts I can handle, but I tend to be a little intimidated by big slabs of meat (both in the literal and figurative sense), and I don't have a lot of experience cooking them. It always seems to involve a lot of complex techniques I shy away from – brining, basting, probing, stuffing – and I don't even own a meat thermometer. But I'm more than willing to play with the big guys and learn. Especially when it turns out as well as this…
And without further ado, ladies and gentlemen, here are the recipes.