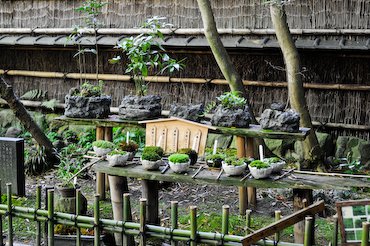 Moss garden at Gio-ji temple in Arashiyama (Kyoto).
I seldom invite world events to appear on Chocolate & Zucchini, because we live in an age of such hyperinformation that we don't need — and often don't want — to see the same topics on the news and on the food blogs we read.
But in light of what has happened in Japan, what is still happening in Japan, and what I fear is going to happen next in Japan, I need a bit of time before we go back to our regular programming.
There is little we can do but despair over the nuclear crisis, but what we can do now is contribute however much or little we can to the emergency relief effort for the hundreds of thousands of victims of the earthquake and tsunami.
My friend Chika has set up a fundraising page to support the International Rescue Committee, and Tamami has created one in favor of Save the Children.
Beyond these initiatives, Elizabeth Andoh, who runs A Taste of Culture in Tokyo and Osaka, suggests making donations to Doctors without Borders, NetHope, or International Medical Corps.
Edited to add:
~ Reader Filicophyta sends a link to NPR's list of organizations taking Japan tsunami donations,
~ Reader Eri sends a link to detailed list of organizations edited by Devex,
~ Reader Viviane has set up a fundraising page benefiting Red Cross Australia,
~ Reader Moonstruckinmt points to Jason Kelly's Socks for Japan initiative,
~ Reader Stacey sends a link to a fundraising page in favor of ShelterBox.