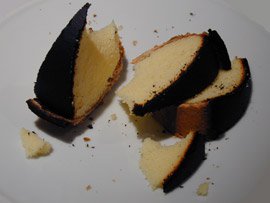 Le Tourteau Fromagé is a French cheesecake, one that I mentioned buying during a recent grocery store trip. "Fromagé" means "with cheese", and "tourteau" is a variation on the word "tourte", which means "pie". I happen to find the word "tourteau" very cute – it puts me in mind of a small cuddly animal for some reason.
It is a specialty from the Deux-Sèvres, a district in the Poitou (South-West of France), and its origins can be traced back to the beginning of the 19th century. It is traditionnally made with fresh goat cheese (but is also sometimes made with cow milk cheese), flour, sugar and egg yolks, in which you incorporate beaten egg whites. The mixture is then poured in a special small round mold lined with a thin layer of pastry dough, and baked in the oven.
The distinctive thing about this cake is that it bears a charcoal-black crust on top, which is obtained by baking it at a very high temperature at first, before lowering the temperature for the rest of the baking time. According to the legend, a home cook accidently burned the top of her cake, but then found out that the charred crust made for a very moist interior and kept it fresh for longer. Some eat the crust, some don't : I do, Maxence doesn't. It certainly makes for an unappetizing sight to those who have not yet been introduced to its delights, but that's one thing I love about certain local and traditional specialties : they may not look pretty, but that's the way they are, always have been, and if you don't like it, well… tough!
This cake is such a pride to the Deux-Sèvres inhabitants that there is actually a Confrérie du Tourteau Fromagé, a brotherhood created in 1974 to promote and protect the Tourteau and its traditional recipe. The brotherhood's signature apparel consists of a yellow shirt (to symbolize the inside of the cake), black pants and a black cape (to symbolize the charred crust), a wooden medallion in the shape of a mini-tourteau around the neck, a tourteau mold tied to the waistband and a hat. Sheer elegance!
I just adore the idea of these brotherhoods founded to defend any and all local specialties. If you'd like more fascinating information about them, I highly recommend Peter Mayle's hilarious book "Bon Appétit! Travels through France with Knife, Fork and Corkscrew".