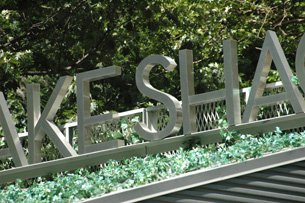 When I left for NYC armed with a highly enthusing list of suggestions, recommendations and must-eats, I was determined to make the culinary most of my stay. But in a city such as this, it can certainly be an overwhelming mission statement: where do you start, what do you choose, where do you go? As often in the trickier situations of life, forethought and discernment are key. A mental list was drawn in which I gathered my priorities, and among them, high up in the list, those food items that most distinctly say "New York City" to me.
Bagels @ Murray's
Rising early on Sunday morning (a happy effect of the jetlag), we skipped the uninteresting hotel breakfast and walked out into the sunshine to begin the day's adventures — the savvy food-traveler knows that every meal is a precious opportunity, and he can't let low blood sugar get in the way of proper fulfillment. Thankfully in this instance, breakfast was right around the corner, in the form of Murray's Bagels. The shop was small and dim, and one could sense a bustling activity going on behind the counter and out of view — the staff surely kneading, poaching and baking frantically to satisfy the bagel needs of the good people of New York.
For anyone who has yet to visit this type of bagel spot, what you do is choose the kind of bagel you want (plain, poppyseed, sesame, rye, onion, garlic, but also cinnamon, raisin, etc.). They will slice the bagel horizontally, optionally toast it (but many a New Yorker claims that this is heresy for a good bagel), spread it thickly with the spread of your choice (sometimes referred to as "schmear" and usually cream-cheese based), reassemble the bagel, cut it in two half-moons for easier handling, wrap it up in paper and place the whole thing in a brown paper bag.
Maxence ordered a poppyseed bagel with cream cheese while I, ever the indecisive, got an everything bagel (that's a bagel with all the available savory seasonings) with cream cheese. At Murray's they don't toast the bagels (oh god no), but if you're lucky and/or an early riser, your bagel will be just coming out of the oven. We sat outside on the wooden bench (those welcoming benches being one of my favorite features of New York) and munched on our bagels, still wonderfully warm and oozing with cream cheese. After eating half of mine I had to give up the fight and reflected that we could easily have shared one, but Maxence didn't seem to agree, though with his mouth full I couldn't tell for sure what he was saying.