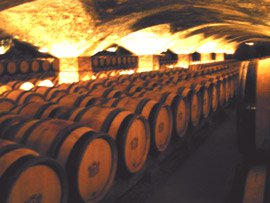 [A Week-End in Burgundy]
June this year was The Month Of Weddings for us : we were invited to three of them, three week-ends in a row, three differents couples (we checked).
The first of them, two weeks ago, was held in the bride's beautiful family house in Bourgogne, South-East of Paris. This was the perfect occasion for us to take a mini-tour around this region, famous for its gastronomy and wines.
We rented a car to get to the wedding, and stopped for lunch in Chablis. We went for regional specialties of course : Oeufs en meurette (poached eggs in a red wine sauce), Escargots à la Bourguignonne (Bourgogne snails with garlic herb butter), and Truite rose, sauce beurre blanc au Chablis (Pink trout with Chablis butter sauce).
The wedding was celebrated that afternoon at the majestic abbey of Pontigny, and all the guests then headed to the house for the reception. Dinner was served in the large, stone-walled barn, which our friends had entirely renovated and decorated for the occasion : an extremely pleasant setting for the dinner and party, which went very well, all happy conversations, humorous and moving speeches, and a few tears of joy.
The dinner, for which my sister Céline had designed the pretty menus, was catered for by a local company and proved particularly delicious : fillets of red mullet, served cold on a carpaccio of spring vegetables, then roasted duck breast with a little pyramid of mashed celery root and a little bundle of green beans. Cheese was served buffet-style, and the selection offered mostly local cheeses, including a Soumaintrain, a delicious cow milk cheese I had never heard of, and an authentic raw-milk Epoisses, an incredibly hard to find rarity, produced in two farms only. Dessert was a plow-shaped tiered cake, an impressive construction of caramel-coated cream-filled puffs, sugar flowers and nougatine.
The next day, we took a little road-trip further down into the heart of Bourgogne. We stopped in Beaune for lunch and enjoyed a Boeuf Bourguignon (a beef stew in a red wine sauce) — not that we were that hungry, to be honest, but can you really drive through Bourgogne without eating Boeuf Bourguignon? I think not.