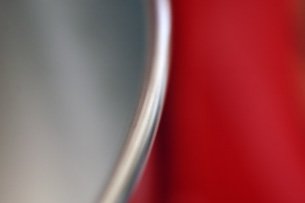 [The KitchenAid]
I have given in to the demon of temptation, and I can tell you this: it is poppy red, it weighs twenty-two pounds, and it comes with a dough hook, a flat beater, a wire whisk, and a stainless steel bowl (which conveniently doubles up as a kitchen mirror).
After so many years of lusting and wishing and yearning, resisting the urge because a stand mixer is not exactly cheap and counter space is a scarce commodity, I finally caved in and ordered one from a French online store. Just three days later, my shiny new friend showed up on my doorstep in its styrofoam jewel box, and I've been admiring it with the eyes of love ever since.
As one might guess, my recent brush with brioches is not entirely unrelated to this lavish purchase, and was certainly instrumental in getting Maxence's blessing — he owns half of said counter space after all, so we make that kind of life-altering decision together. I chose red because everybody knows red cars drive faster, and my kitchen looks beside herself (yes, my kitchen is a she) with pleasure from this new accessory.
So, what have I used it for so far? Well, after carefully considering what recipe would be the most suitable for its inauguration, I decided on a simple pâte brisée to make the tartlets I was testing for a magazine article. The simplest ceremonies are often the most elegant, no?
Now I wish I could take it on the train with me to my parents' mountain house for Easter so we could make hot cross buns with it, but that sounds like a stupid and back-breaking thing to do, so perhaps I won't.
~~~
If you would like to know how and where such stand mixers are grown and harvested, you can read all about it in David and the KitchenAid Factory — perhaps Tim B. would like to buy the motion picture rights for that?
Pâte Brisée
(Very slightly adapted from my cooking class bible, La Cuisine de Référence: there is just 12.5g sugar in the original recipe.)
– 1 egg yolk
– 50 mL (3 tablespoons plus 1 teaspoon) cold water
– 5g (1 teaspoon) salt
– 30g (2 tablespoons) sugar
– 250g (2 cups) all-purpose flour
– 125g (4.5 ounces, European-style) butter, diced
This makes enough for two 22 to 25-cm (9 to 10-inch) tarts, or twelve 10-cm (4-inch) tartlets.
In a medium mixing-bowl, whisk together the egg yolk, water, salt, and sugar. Set aside.
In the bowl of your favorite food processor, preferably red, combine the flour and butter, and process at low speed until the mixture resembles coarse meal. Stop the processor. Pour in the liquid ingredients all at once, and process just until the mixture comes together.
Turn out onto a lightly floured work surface. Divide in two and shape each half into a flattened ball, without kneading. Wrap in plastic and chill for at least 30 minutes before using. (If you only use one of the balls, the other one can be frozen for up to a month.)