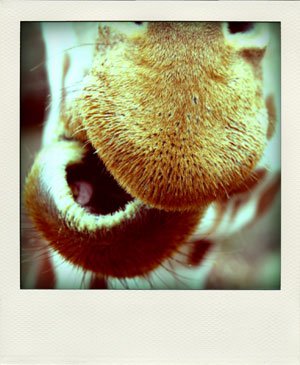 Chewing giraffe provided by Wildlife 2008.
This is part of a series on French idiomatic expressions that relate to food. Browse the list of idioms featured so far.
This week's idiom is, "Ne pas mâcher ses mots."
Literally translated as, "Not chewing one's words," it means expressing one's opinion plainly and bluntly, with no concern for how it's going to be received. It is equivalent to the (similarly food-oriented) English expression, "Not mincing words."
Example: "Les journalistes adorent l'interviewer parce qu'il ne mâche pas ses mots." "Journalists love to interview him because he doesn't chew his words."
Listen to the idiom and example read aloud:

(If no player appears, here's a link to the audio file.)
This idiom first appeared, albeit in an Old French incarnation, in the thirteenth century. It reached its modern form in the late nineteenth century.
Not chewing your words implies two things here: one, that you didn't take the time to think about (chew) what you were about to say, which might otherwise have led you to edit yourself slightly; and two, that the words you're pronouncing have to be swallowed whole, and may therefore be difficult to digest for those on the receiving end.
And this brings us to a related expression: "Ne pas digérer quelque chose" (not digesting something), which means not being able to get over an incident or something someone said, and being still upset — and possibly holding a grudge — about it.
Before we part, I'd like to point you to the Eating Chinese series that Jessie, who lives in China, has just started. I am tickled that my Edible Idioms inspired her to launch this project, and I look forward to many more installments.