How did your November turn out?
Mine has been a little bit of a blur. 2017 has been a year of planting seeds for me, and some of them have sprouted and grown a little sooner and with more vitality than even I anticipated. All of a sudden I have a whole garden of young things to tend to. It's a good problem to have, certainly, but add to that two small children — including one who's not sleeping all that well — and you have to manage your mind even more carefully.
I remind myself that overwhelm is not a function of how long one's to-do list is; overwhelm comes from not knowing what to do first. So I work on keeping that to-do list realistic, yes, but also maintaining clarity on what my priorities are. Does that resonate with you in any way? (If it does, have you already received my 3 Secrets of Productivity?)
Anyway. Amidst said blur, here are the things that brought me delight:
• The Atlas Obscura website, all about the quirkiest and most surprising places on Earth. I recommend their newsletter — I find myself wanting to share just about everything on social media — and you can dive into their newly created food section, Gastro Obscura.
I haven't seen their book Atlas Obscura in the flesh, but it's gotten great reviews and would be such a good gift for your science-happy, curious-minded niece.
(If said niece is also a Francophile, make sure you check out my Best Gifts for Paris-Loving Kids!)
• I stumbled by chance upon Molly Beck's blog Smart, Pretty, and Awkward and loved the title immediately. She, too, offers lots of thought-provoking, delightful links, and I've gifted her book Reach Out to a dear friend of mine; it's all about expanding your circle of connections with boldness and heart. Perhaps you know someone who would be inspired by that?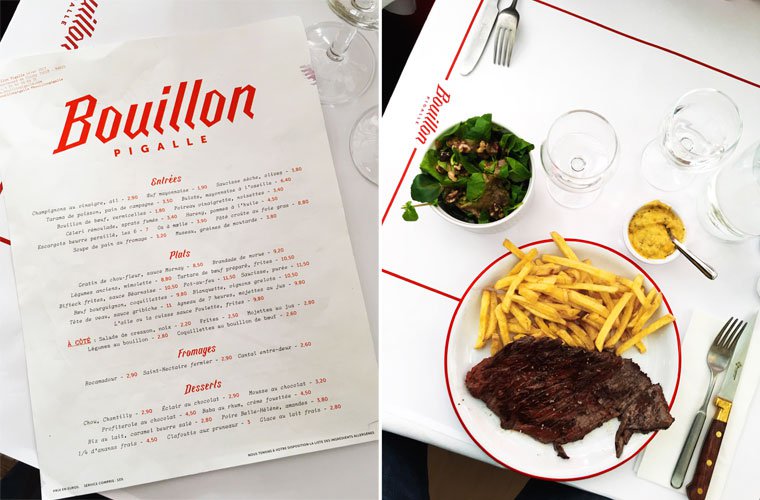 • Bouillon Pigalle has just opened a couple of blocks from me, at the foot of the Pigalle metro station. It's a nod to the old-fashioned bouillons, those big, brasserie-style restaurants that used to serve a humble fare (including broth, or bouillon) to working-class customers.
This is a hip take on the concept, by the guys who started Brasserie Barbès. The steak-frites béarnaise I had was very good, served with the watercress and walnut salad I ordered on the side because: greens. Prices are very affordable (main dishes are all between 8.50 and 11.50€!) and it's a fun space in a great location.
• My youngest son is completely enamored with the story of the Three Little Pigs for some reason, and I get to tell it to him in a million different ways, sometimes incorporating whatever extra element he or his brother suggests, like unicorns and dragons and bears and magic volcanos. And when I need a respite from all the story-telling, this French animated version of Les Trois Petits Cochons is fun and wonderful.
• I also recommend you listen to my friend Élodie Milo's song La Mer. The lyrics are posted below the video and she enunciates them perfectly, so this should be extra gratifying for you if you're working on your French. She is singing at FGO-Barbara in Paris this very Friday, December 1, so book your ticket now.
• Speaking of learning French, would you like to win a subscription to Frantastique, the personalized email course to improve your French? I have two 6-month subscriptions to give away. If you're interested, please fill out this form to enter! The giveaway will run until December 14, 2017, then I'll draw two lucky winners randomly. Bonne chance !