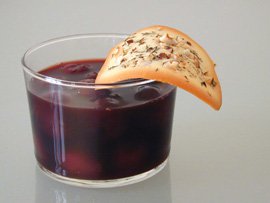 [Swimming Cherries, Hazelnut Rosemary Tuiles]
I have a new piece appearing today in NPR's weekly Kitchen Window column. The recipe I am sharing this time is for a chilled cherry soup that you can serve with hazelnut rosemary wafers, a variation on the typically French tuile.
The metric measurements are below.
(Previous contributions to Kitchen Window:
– Artichoke and Goat Cheese Mille-feuille,
– Asparagus Confit with Almonds and Rosemary,
– Chocolate and Candied Ginger Tartlets.)
Soupe de cerise
– 500 g cherries
– 100 g brown sugar
– 25 cl water
– 2 teaspoons lemon zest, preferably organic
– 25 cl red wine
Hazelnut Rosemary Tuiles
– 2 egg whites
– 70 g sugar
– 30 g salted butter, melted
– 60 g all-purpose flour
– 30 g whole hazelnuts
– 2 teaspoons dried rosemary