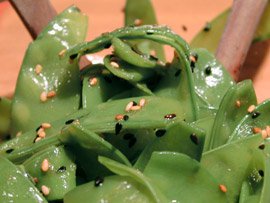 [Triple Sesame Snow Pea Salad]
In French, snow peas (or sugar snap peas, apparently the difference is that snow peas are a lighter green) are called Pois Gourmands (Gourmand Peas) or Haricots Mangetout (Eat-Everything Beans). The reason for that, I just found out, is that unlike regular peas, you eat the pod as well, so you "eat everything". And eating everything makes you a qualified gourmand, hence the alternate name. Cute, huh?
I love the sweet taste and the mix of softness and crunch these peas provide, and I think they lend themselves particularly well to Asian-style salads. Maxence and I have experimented over time with different sets of ingredients for the dressing, but I came up with the following on Monday night, which I liked very much. I will call it Triple Sesame Snow Pea Salad, as it involves sesame in three forms : sesame seeds, sesame oil and sesame butter.
Boil 250g of snow peas in salted water for 5 minutes, then dump them in ice cold water to stop the cooking. Drain. Toast a tablespoon of sesame seeds (I used both white and black seeds for a nicer visual effect) in a dry skillet.
For the dressing, I can only give approximate measurements here, as this works best with a spontaneous listen-to-your-heart approach – plus it's a lot more fun that way! In a salad bowl, mix a tsp of soy sauce, a tsp of rice vinegar (substitute any other vinegar, but preferably a sweet one, like cider or balsamic), a tsp of olive oil, a tsp of sesame oil, a squirt of hot sauce, a tsp of confiture d'oignon (you can substitute chutney, honey or any not-overly-sweet jam), a tbsp of tahini (sesame butter), salt and pepper.
Add the beans and the sesame seeds to the dressing, and toss gently to coat. Place in the fridge to cool for a little while, the longer the better, so the flavors have time to develop. This feeds two as a light main course, and can be served topped with a poached egg, accompanied by slices of bread, toasted and cut into fingers or triangles.