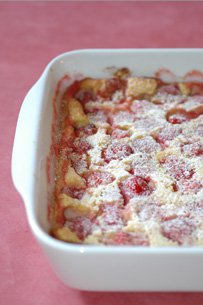 I have a new piece appearing today on NPR's Kitchen Window: it is a recipe for strawberry clafoutis, to which I've added, as a free! no-strings-attached! bonus, an easy recipe for strawberry coulis.
(If you've missed them, my previous contributions to Kitchen Window include:
~ Mango Scallop Tartlets
~ Pear Pastilla
~ Cheese Course 101
~ Fresh Herb Muffins
~ Cherry Soup with Hazelnut Rosemary Tuiles
~ Artichoke and Goat Cheese Mille-feuille
~ Asparagus Confit with Almonds and Rosemary
~ Chocolate and Candied Ginger Tartlets)
You will find the metric measurements for the clafoutis and coulis below.
Note: the amounts were slightly rounded up or down to make them easier to work with (who wants to measure 56.69 grams butter?), but this won't affect the finished product — clafoutis is a pretty flexible kind of guy.
Clafoutis:
– 55 g unsalted butter
– 600 g fresh strawberries
– 60 g all-purpose flour
– 50 g whole blanched almonds
– 100 g granulated sugar
– 1 tablespoon cornstarch
– A pinch of salt
– 3 large eggs
– 185 ml milk
– 1 tablespoon dark rum (optional)
– Confectioner's sugar
– Oven temperature: 180° C
Coulis:
– 200g fresh strawberries
– 2 tablespoons sugar
– 2 tablespoons water