Every Sunday morning throughout my childhood, my father took my sister and me to the Jardin d'Acclimatation, a charming amusement park for children with structures to climb, goats to feed, carousels and bumper cars. It was quite the SuperDad thing to do: my sister and I had a blast of course, and I imagine my mother treasured those hours of weekend tranquillity.
Between an Enchanted River boat ride (I will forever remember the unique smell of stagnant water and weeping willows) and a game of Whac-a-Mole (we called it boum-tap), we were allowed a treat at one of the park's snack outlets.
Whatever the age, everyone loves the idea of a freshly made waffle, and gets wide-eyed like a child when the golden squares materialize from the iron.
And this is where I developed my taste for the kind of light waffles one finds at fun fairs in France: crisp on the outside, creamy soft on the inside, steaming hot in the cold winter morning air. All kinds of toppings were proffered — whipped cream, chocolate sauce, chestnut cream — but we favored the generous sprinkling of confectioner's sugar that left the tips of our noses white.
I haven't bought a waffle like this in years, though I have sometimes been tempted by the smell wafting from the stands on Paris' Grands Boulevards, or the one propped up against the carousel where I take my own son now. But as I researched recipe ideas to use my spiffy waffle maker, I found this good-sounding formula on a blog written by food stylist and writer Isabelle Guerre.

Said recipe, along with the author's helpful tips, has largely lived up to its promise. I've made it so many times since that I know it by heart, and it takes me barely ten minutes to whip up the batter. I enjoy making it when we have friends coming over in the afternoon: whatever the age, everyone loves a freshly made waffle, and gets wide-eyed like a child when the golden squares materialize from the iron.
(I'll note that this kind of waffle batter is simply a thicker crêpe batter with leavening added, which means it can be cooked in the skillet to make pancake-ish crêpes if you have a child who, because he's two and a half and opposition is his job, insists he wants a crêpe, not a waffle.)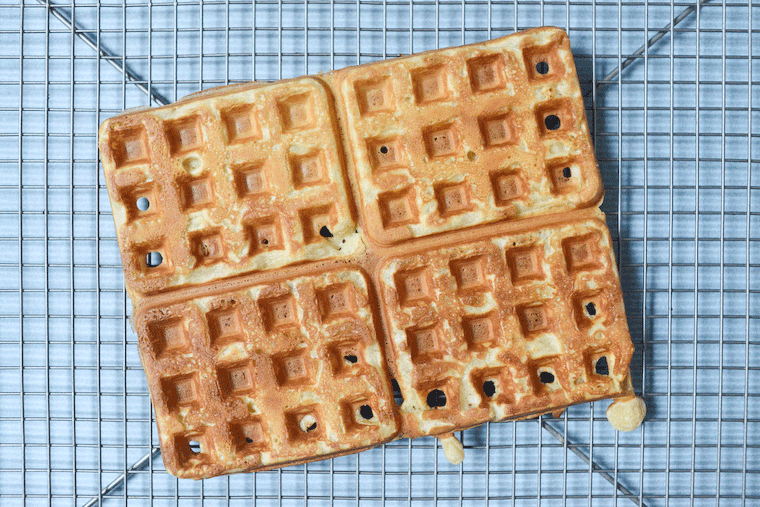 Want more fabulous waffle recipes?
Follow my waffle board on Pinterest!

Have you tried this? Share your pics on Instagram!
Please tag your pictures with #cnzrecipes. I'll share my favorites!
Light and Crisp Waffles Recipe
Ingredients
300 grams (10 1/2 ounces, about 2 1/3 cups) all-purpose flour (I use a French organic T65)
1 tablespoon baking powder
1/2 teaspoon fine sea salt
75 grams (1/3 cup plus 1 tablespoon) unrefined blond cane sugar
100 grams (7 tablespoons) melted butter, cooled (you can also use coconut oil, or a mix of the two)
2 large organic eggs
500 ml (2 cups) milk (dairy or non-dairy)
Instructions
In a bowl, combine the flour, baking powder, salt, and sugar.
Make a well in center and add in the butter and eggs. Whisk to combine with part of the flour.
Pour in the milk slowly and whisk continually to get a smooth batter (but a few lumps won't kill anyone). The batter will resemble pancake batter.
Cover and refrigerate 1 hour. (The batter will then keep for a day or two, but it gives best results after 1 hour.) Whisk again before using.
Preheat the waffle iron (on mine, the ideal temp is 190°C or 375°F). Grease if necessary (mine is non-stick) and pour the batter in with a small ladle. Each waffle mold should be filled enough that the waffle will rise to the top, but not so much that the dough will overflow. It may take a couple of tries to get the amount just right for your waffle iron; make sure you remember what that is for subsequent batches.
Cook for 5 to 6 minutes, until the waffles are golden brown. To get a sense of how the cooking is going, watch the steam that escapes from the iron; it will lessen significantly when the waffles are almost ready. At that point, you can open the waffle iron carefully to check on the color of the waffles (if you open the waffle iron too early, you risk having your waffles split from the middle).
Let stand for 2 minutes on a wire rack before serving with confectioner's sugar, maple syrup, whipped cream, chestnut cream, chocolate sauce, chocolate shavings, etc.
Notes
Recipe adapted from Isabelle Guerre's.
If you have leftover batter and don't feel like lugging out the waffle iron, you can cook the batter in a skillet to make pancakes.
https://cnz.to/recipes/cookies-small-cakes/light-and-crisp-waffles-recipe/
Unless otherwise noted, all recipes are copyright Clotilde Dusoulier.