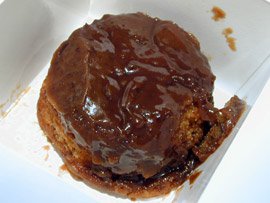 See this? Doesn't it look just scrumpalicious, nested in its little takeout box? See how the sticky caramel coating has rubbed off a bit on the right side, where the little pudding's shoulder was leaning, as I carried it home?
I had walked to Rose Bakery for lunch, armed with a magazine and a notebook, my personal treat when I'm home on a weekday. Usually, after I'm done with the yummy and copious lunch (an assortment of their salads, a main dish, a coffee and a cookie), I have to drag myself away from the dessert case and resist buying one of their tempting pastries, because, you know, lunch was indulgence enough.
But this? This just looked too good. And really, with a name like that, who could resist? Try saying it out loud and enjoy the syllables : sti-cky-tof-fee-pud-ding. Then fast, stickytoffeepuddingstickytoffeepuddingstickytoffeepudding. Can you think of a cooler thing to say? I can't.
I went back home, and later in the afternoon decreed it was high time for Le Goûter. I opened the takeout box, said hello to my little friend, took plenty of pictures for posterity, lifted it out cautiously, swiping the caramel sauce from the carton with my finger, transferred it onto a plate (well, I do have manners), sat myself on a stool at our kitchen bar, and dug in.
One word, which I'll go ahead and all-caps for you : "WOW".
I'd never had sticky toffee pudding before, you see, growing up in France and all, so I didn't have the faintest idea what it had in store for me, what it was going to taste like, and well, I wasn't quite prepared for such moistness and sweetness and velvety carameliness. Wow, indeedy.
So now of course I really have to try and reproduce this, there's no way out. The good people at Rose Bakery are working on a book of their best recipes, which I will quite certainly have to lay my hands on, but that won't come out until a year from now, so I'm on my own in this. However the owner did tell me that it was apricots that made it so good. So, aha, that's a start!
Update: I later reproduced it, recipe here!