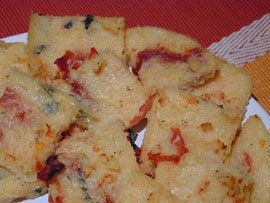 This recipe is from the apéro section of the cookbook Mes petits plats 100% naturels, by Catherine Mandigon and Patricia Riveccio. In France, apéritif (also called l'apéro) is the general term for the drinks and savory nibbles you offer your guests before dinner. It is also a widespread custom to invite people over just for l'apéro, which is a more casual way to entertain than a full-blown dinner invitation. French cookbooks often include a whole section devoted to that mini-meal. I particularly enjoy making amuse-bouches (or amuse-gueules), something about making a platterful of identical miniature cute bites really appeals to me (my Hello Kitty side, I guess).
Here's how to make these polenta squares.
Chop 6 pieces of sun-dried tomatoes (mine are packed in herbes de provence seasoned oil, so I'm careful not to take too much of the oil) and 6 leaves of fresh basil in small strips. Cook 120 g of instant polenta according to the package directions. Remove the saucepan from the heat, add the tomatoes and the basil, salt and pepper, and stir with a wooden spoon.
Spread the mixture in a lightly oiled square ovenproof dish (or use a non-stick dish) and use the spoon to flatten the surface. Make sure the basil and tomato bits are more or less evenly distributed. Put the dish in the fridge for about 20 minutes, so the polenta hardens a little.
Use a knife or a spatula to cut the polenta in squares (mine were about 1-inch squares, but they could be smaller too), and put the dish under the grill for a few minutes, until the surface is golden and slightly crispy.
This is really tasty : crispy outside, tender inside with the distinctive tang of sun-dried tomatoes. It also looks good, what with the yellow-green-red colors and specks of gold. Of course, you need to like polenta to enjoy them, but it seems to me that the polenta people sometimes object to is in its creamy form, so that wouldn't be a problem here. I prefer these squares to be served warm, but room temperature or cold would work too. I will definitely repeat this recipe, and what I will do next time is flip every square and grill again for a few minutes, so that they are cripsy on both sides. I will also chop my tomatoes in smaller bits for easier cutting of the squares : my chunks were a bit too large and sometimes got caught between two squares.
This recipe would lend itself to a lot of variations. Using non-instant polenta would certainly improve the taste (but not the ease of prep obviously), and it could be made in a round dish and cut in slices like a pie. Anything could be substituted for the tomatoes and basil : any vegetable and herb, cheese, bits of smoked ham, olives… and it could also be served as a side dish.