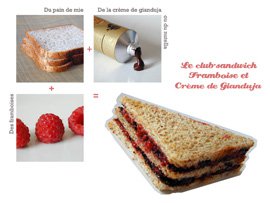 [A Sandwich for Dessert]
"Un Sandwich pour le Dessert" is a project I worked on for Fraîch'Attitude, a Parisian gallery that specializes in Eat Art. Eat Art is an offshoot of ephemeral art that uses food as its primary material: some of the exhibitions are actually edible and are meant to disappear into the visitors' stomachs, to be recreated the next day.
The gallery just opened a new exhibition yesterday around the theme Picnic, and a couple of months ago I was asked to submit something ("anything! you decide!") for the exhibition's catalog, which also serves as a cahier de style — a reflection of current trends and inspirations.
I decided to create visual recipes for four simple dessert sandwiches, easy to make and easy to pack, for a colorful picnic on a nearby patch of grass or on the floorboards of your living-room. (Click on the names to view the recipe.)
– Le Club-sandwich Framboise et Crème de Gianduja: sandwich bread + gianduioso (or nutella) + raspberries = raspberry and gianduioso club-sandwich.
– Le Sandwich Petit Beurre à la Fraise: strawberries + petit suisse + butter cookies = strawberry cookie sandwich.
– Le Petit Pain Amandes et Mirabelles: plums cooked with a little sugar + toasted almonds + a mini loaf of bread = plum and almond mini-bread.
– La Brioche Figue et Citron: lemon curd + a pretty brioche + figs = fig and lemon brioche.