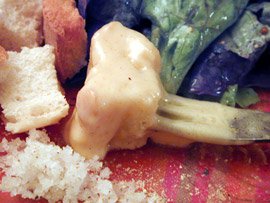 [Cheese Fondue at our Neighbors' place]
We are lucky enough to be very good friends with our next-door neighbors. Stéphan and Patricia live on our floor, in the apartment to the right of ours. We met on the night of our housewarming party : we had posted a note to apologize in advance for the noise and music, and to invite everybody over for a drink. We were very happy to have several neighbors show up (which was a very favorable omen in regards to the friendly and village-like atmosphere of the building), and among them, Stéphan and Patricia.
We have grown very fond of each other over time, chatting from window to window, plucking from each other's aromatic garden, having drinks/coffee/cake/dinner at their place or ours, borrowing books, sharing a wireless high-speed connection, bringing back small gifts from our trips, and just generally having a grand time. We all share a pronounced taste for good food, and Stéphan is a passionate cook too, with his own style – pretty different from mine – and a lot of talent.
So Saturday night, when they invited us over for a fondue savoyarde (cheese fondue), we very happily accepted.