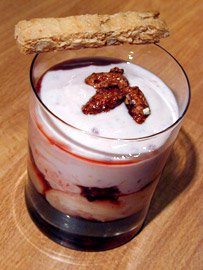 This is one of my favorite recipes when I want to make a light individual dessert that's quick to make, yet looks nice and sophisticated. I served it the other night to end our duck confit meal, after which "light and refreshing" was definitely the way to go. This recipe lends itself to an endless number of variations, but I'll tell you what I used this time as an example.
I used about 500g of fromage blanc, which is a sort of plain yogurt, with a thicker texture and a milder taste. In a bowl, I mixed half of the fromage blanc with about 4 tbsp of raspberry jam, which we had bought at a road-side stand (along with a basket of raspberries, fresh and sweet) during our week-end in the south-west of France. In another small bowl, I crumbled 6 small butter cookies, not too finely.
I then assembled the dessert, in four identical clear glasses. In each of them I poured a few drops of crème de cassis, a thick sweet blackcurrant liqueur, mostly used diluted in white wine to make kir cocktails. I dropped about 8 raspberries in each, on top of which I spooned a layer of plain fromage blanc, dividing it equally between the four glasses. I sprinkled the cookie crumbs, and spooned the raspberry fromage blanc. Through all this spooning and pouring, make sure not to stain the sides of the glass, so the layers appear neatly. The glasses were then stored in the refrigerator. Right before serving I arranged three pralines (crunchy sugar-coated almonds) on top, and balanced a Croquant de Provence, a finger-shaped crunchy almond cookie, on the rim of the glass.
The great thing about this dessert, besides the oohing and aahing it usually prompts, is that it's fun to eat : one digs into the different geological strata, and each bite brings a different set of textures, keeping your taste buds on their toes!
In the past, I've made a blueberry and a cherry versions of this versatile dessert. The recipe can be adapted to use what goodies you have on hand. Plain or flavored yogurt, quark, cottage cheese, beaten mascarpone or ricotta could be substituted for the fromage blanc. Honey, chocolate or maple syrup can be poured in the bottom, you can include layers of toasted or glazed nuts, any fruit (berries or fruit cut in tiny cubes, fresh or dried) and any jam can be used, any type of biscuit, crunchy or soft, you can top the glasses with whipped cream, berries, shaved chocolate or nuts, … the limit is the sky!
The only rule to go by is to alternate colors and textures, and to accessorize with a cute biscuit that can be dipped in and nibbled on. If you try this, be sure to let me know what your variation was!