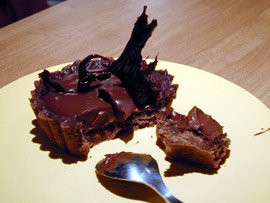 [Absolute Chocolate Tartlets]
I could have met my friends Marie-Laure and Laurence at a Chocoholics Anonymous meeting, so when they came over for dinner last night, I decided I would treat them to Absolute Chocolate Tartlets.

The recipe comes from one of my cookbooks, called Je Veux du Chocolat! ("I want chocolate!") by Trish Deseine – another much cherished present from Maxence. In the book, it is called "Tarte Absolue" and is made as one big tart, but I love making single-serving things, especially desserts, and I wanted to use the little tartlet molds I had bought at E. Dehillerin two weeks ago : fluted edged, non-stick, with removable bottoms.
This is a pretty time-consuming dessert to make, but it's a lot of fun, and the result is way worth it!