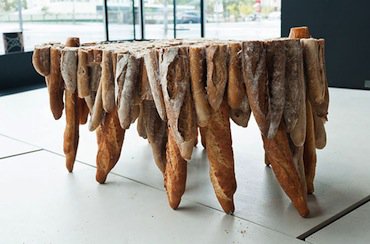 "Baguette table" by Studio Rygalik, photography by Nick Albert.
A few of my favorite finds and reads for February:
~ Can you eat well and vegetarian? asks Lucile Escourrou in Le Figaro Madame (in French).
~ Pulled sugar? No, frost flowers!
~ The Dijon library has a digitized collection of 9000+ menus dating back to 1810.
~ How to ask for help (and get an answer).
~ An example of the weekly menus served at my son's daycare center.
~ An inspiring chocolate shavings/ricotta/honey/maldon salt pizza in this story.
~ A sourdough hotel in Stockholm.
~ Horse beef lasagna, a recipe (in French).
~ No more wasted stale bread with this baguette table.
~ 37 people who are worse at cooking than you.
~ A new delivery service that gets cakes and chocolates from some of the best Paris artisans to your door.
~ Lost in the sea of food boxes, wine boxes, and everything-under-the-sun boxes? Toutes les box posts descriptions and reviews (in French).
~ Microscopic pictures of food by photographer Caren Alpert.
What about you, any recent find you'd like to share ?