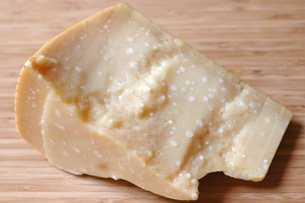 Earlier this year, I received an email from an Italian blogger named Massimo, who announced to me that C&Z had been voted Best Non-Italian Food Blog in the awards he'd been hosting on his website, Peperosso* — I'm sure that having an Italian word in the name of my blog helped. And since Massimo puts his mangoes where his mouth is (Lost, season 2:episode 17), there was a prize for each of the winners, and the prize was a 100€ gift certificate from San Lorenzo, an online store that specializes in Italian goods, and ships them in Europe.
You probably all receive those fake "You've won the lottery!" emails by the dozen (please tell me I'm not the only one), but this was a bona fide offer (no credit card information was requested) and I was delighted: it's nice to discover you've won something, it's even nicer when you didn't even know you were in the running for it, and when the something you've won is edible, well, there's no price tag on that.
Because I am me, it took me a couple of months to log on to the website and make my order. But when I finally did, it felt like writing a list to a foreign-exchange Santa: armed with my Italian-French dictionary (the website is available in other languages now, but wasn't at the time), I spent quite a while browsing the virtual aisles and agonizing over what to get. It turns out my dictionary isn't very food-savvy, but I got by, and learned lots of new words that were promptly forgotten the next day. And when I received the package — a rather huge box that I went to collect from my guardienne's office — here's what was inside:
– A jar of squid ink sauce,
– A can of tuna belly,
– A bag of dried porcini,
– A jar of pink radish paste from Trevise,
– A jar of rabbit liver terrine,
– A box of olive biscotti,
– A jar of plump caramelized figs,
– A 6-pound assortment of pasta (Gigli, Ricciole, Trofie, Linguine, Penne Rigate, and Spaghetti — that's a lot of pasta, I know),
– A 2-pound bag of Vialone Nano rice (the king of risotti according to Alba),
– A handsome, 2-pound wedge of aged Parmigiano Reggiano.
I have a passion for super-aged cheeses — I was once brought to the verge of tears by a 36-months-old Comté. I adore their tangy sharpness, their concentrated flavors of pepper and roasted nuts, their brittle texture that dissolves on your tongue, and their crunchy salt crystals. And there is something to be said for having a live-in hunk of excellent Parmesan in your fridge: it keeps really well, it tastes even better, and it will positively sublimate anything you grate or shave it over.
Needless to say, my stove has seen a lot of pasta dishes and risotti recently. The size of the Parmesan wedge has already shrunk considerably, and before it's all gone, I would like to attempt the cooking of pasta using the risotto method, by absorption rather than boiling. According to Pascale, this creates a silky-smooth coating on the pasta, as if you had used a sizable amount of olive oil, only you haven't. I shall keep you posted on the outcome of this experiment.
* Peperosso.info seems to be unavailable for the moment, but I will add the link when it comes back up.