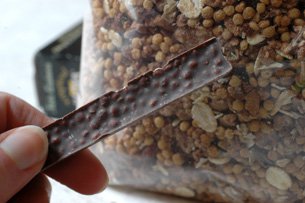 You know how sometimes, you introduce two of your friends, and later find out they've clicked so well that they call and see each other without you? Now, as I understand (and this I gather from reading women's magazines, so take it with a grain of Maldon salt), some people hate that: it makes them feel left out, or perhaps sligthly cheated. But I've never been of a jealous nature, and on the contrary such situations make me glow visibly (a bit freaky when you turn off the lights), thinking that I can take a little credit for the spark that ignited a new friendship.
And this is exactly how I felt last week at the Lafayette Gourmet store: I was browsing the organic aisle (right after bumping into Louisa, Paris is such a small village), when my attention was caught by not one, but two products that featured both chocolate and quinoa, two of my very favorite ingredient-friends.
"Chocolate! Quinoa!", I exclaimed, "Fancy seeing you here! So, sharing the same package, now, aren't we?" And indeed, they were, in the form of slim sticks of dark chocolate (by Kaoka), and a quinoa cocoa muesli (by Jardin Bio), both of which I promptly purchased to show how happy I was for them.
Upon dutiful taste test, I have to report that the muesli could let the chocolate and quinoa speak up a little more: since it also includes oat, wheat and barley, the quinoa is a little muffled, and the cocoa powder comes tenth in the ingredients' list, right after grated coconut. It is a very flavorful mix nonetheless, crispy and not too sweet. I just think it a little deceiving to call it "quinoa and cocoa" when it could just as rightly be described as "oats and coconut". But I don't make the rules here, I just eat by them.
The chocolate quinoa sticks, however, really delivered on their promise: the chocolate is dark (61%) and remarkably tasty, its base studded with puffed quinoa that pops between your teeth, so that every bite is a pleasant mix of smooth and crunchy. And of course, their size and shape makes them ideal coffee stirrers — we call those touillettes in unofficial French. I do have to object to the wasteful individual wrapper around each of the 10-gram sticks: it may be convenient for packing in your (or your lucky kid's) lunch box, but to me, it clashes with the ethical and environmental claims made on the package. Will email the company and tell them that.
And thus ends this little food-trend-awareness post. Both of these products are French, and I'm curious to know if anyone has spotted this Chocolate & Quinoa affair in other parts of the world?