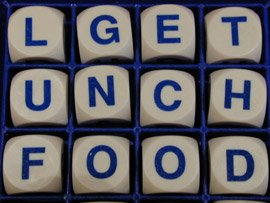 Last Saturday, it was my great pleasure to have two American friends over for a late morning cup of coffee. Ruth, a coworker from my California days, was visiting Paris with her partner Pia, and she had contacted me to know if I'd like to meet up. We had the loveliest time chatting together and catching up.
It should be said that Ruth and I have been through special times together : she and a few other coworkers (namely Marni, Geoffrey and Marcia) had made it a habit to play Boggle in the office kitchen (roomy and warm, bright orange and blue, how I miss that kitchen) during lunchtime. You know, Boggle, where you shake sixteen dice in a plastic box (rattle rattle rattle) then let them settle to form a grid of letters, and try to find as many words as possible on the grid before the sand timer runs out.
I gradually joined in the fun, and became a real Boggle enthusiast. It was a fabulous way to learn a bunch of tiny improbable English words, which I can never get enough of, and I loved the mood we played in, cheerful and relaxed. People would walk in and out of the kitchen, hover over the game (hints were highly fordbidden of course, but they would make a big show of pretending to see 7-letter words), the wonderful Mark C. would unfailingly make his favorite "it boggles the mind" pun, and we would chew on our sandwiches between each game, comparing lists and counting points.
Unfortunately, we got bought over by The Evil Irish, and some high-heeled little miss perfect, in a effort to show who the boss was, let us know with puckered lips and flared nostrils that Boggle playing was not considered an Appropriate Lunchtime Activity. I won't even go into what she thought of the foosball table — she obviously hadn't quite taken to the whole Silicon Valley oh-what-fun spirit.
That marked the end of the happy Boggle days, although we did secretly book a windowless conference-room a couple of times, in an attempt to relieve the withdrawal pains. It helped (just the memory makes me laugh with delight), but it didn't feel quite the same. There was no toaster oven in there.
When I left the company, my Boggle friends were kind enough to give me my very own game of Boggle as a parting gift. I couldn't have been more pleased, and I enrolled Maxence to play with me after that, in a pretty intense fashion, while we prepared the move back to France. We did have to invent a dictionary penalty though, because I, um, kept making up words. Not on purpose, of course, no. I wouldn't do that.
So last Saturday, after the coffee was drunk, I took out my precious Boggle set, and we engaged in a little game. Pia turned out to be mighty good, and after two years of abstinence it was great to play again, just like in the old days, with one of my original partners in crime. A sandwich from Gene's Fine Foods would have been nice, too.